Rare Civil War Photograph Album, 27th Wisconsin & 1st Minnesota Vol Infantry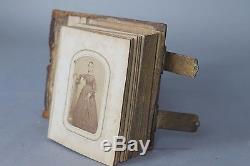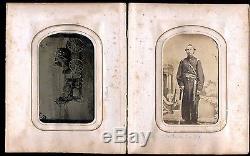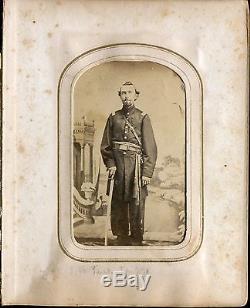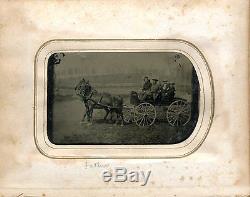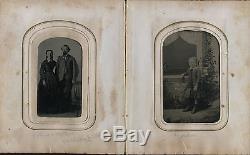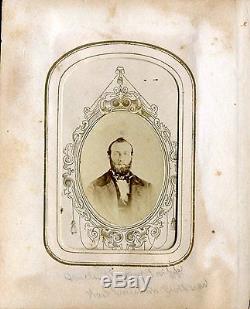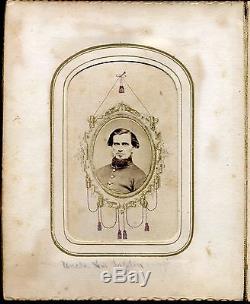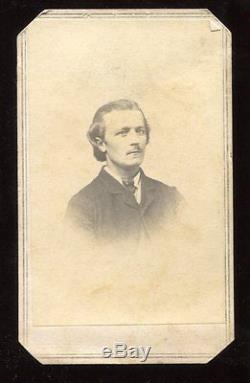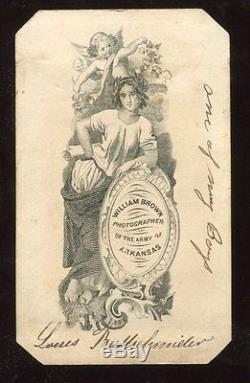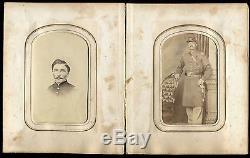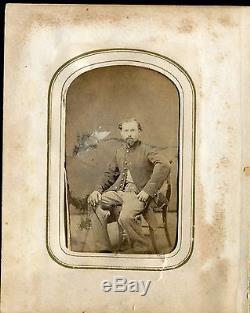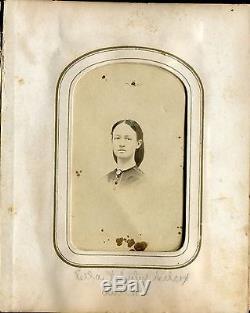 For your consideration is this very rare original Civil War family photograph album. This descended in the Tripp family. Roswell & Thomas Tripp were born to Thomas and Rhoda Tripp of New York, and later moved to Wisconsin.
They are listed in the 1850 census as living in Lyndon, Wisconsin. Both brothers served in the war, and this album focuses mainly on Roswell Tripp and his family. I spent hours of genealogy research on this album, and have pages of data to support the information below.
1st Photograph is just a general view of the worn photo album, showing a family photograph on the first page. The 2nd through 4th photographs on my listing shows a pair of pages in the album.
The tintype is labeled Father in period pencil, and the photograph of the soldier is labeled 1st Lieut Tripp. The CDV shows a full standing pose of the soldier with his sword to the left and out of the scabbard.
Great view of the uniform including his boots. The tintype shows him and family members riding in a horse drawn wagon. Roswell H Tripp enlisted on 8/21/1862 as a Sergeant, and mustered into Company B of the 27th Wisconsin Infantry.
He was promoted to 1st Lieutenant on 7/26/1864, corresponding with the label on the photograph below. The 5th photograph shows Roswell Tripp and his wife Lottie Daharsh Tripp on their wedding day. They were married on April 28, 1867 and had three children together, Ruby, Nora, and Gordon. Gordon is shown on the tintype to the right. Ruby and Nora are also in the album, both tintypes.
The 6th photograph in my listing is a CDV that is labeled in the album as "Uncle Thomas Tripp, was Killed in Civil War". Thomas was Roswell's older brother. Thomas T Tripp enlisted 5/17/1861 at Anoka, Minnesota as a Private. On 5/17/1861 he mustered into Company C of the 1st Minnesota Infantry. He was listed as Killed on 7/21/1861 at the Battle of Bull Run, VA. There is a very interesting article about Thomas Tripp under an ABC Newspapers article. It notes he was involved in a homicide in 1860 and convicted of manslaughter. The article notes there was speculation that Thomas Tripp was a deserter and may not have been killed at Bull Run. This family album tends to lend more credence to the fact that he was killed or at least never had contact with his family again.
The 7th photograph is titled in the album "Uncle William Taplin". William L Taplin enlisted 10/10/1864 as a Private and mustered into Company B of the 27th Wisconsin Infantry. He died of disease 3/14/1865 at Fort Gaines, AL. Great view of the bearded Taplin with his Civil War jacket clearly visible. The 8th and 9th photographs above are titled in the album "Louis Ballschmeider", and the back of the CDV has his name written again.
Taken by the photographer William Brown, who was the photographer of the Army of Arkansas. Louis Ballschmeider enlisted 8/21/1862 as a Corporal into Company B of the 27th Wisconsin Infantry. He mustered out on 8/29/1865.
Of interest, the back of his CDV says "One of my boys", no doubt 1st Lieutenant Roswell Tripp noting that Louis was a friend and part of Company B. The 10th photograph above shows 2 unnamed soldiers in uniform. The one showing the head and shoulders view was taken by ER Curtiss of Madison, WI. No identification given on this one.
The view of the soldier in uniform with sword/scabbard and belt plate in full view has no identification. This CDV is great with full view of uniform and boots.
His hat and insignia are visible but I cant see the regiment number. The top of this card is trimmed off but doesnt really affect the image.
11th photograph is another unnamed soldier seated in a chair. Creased and in poor shape but part of the album. The 12th photograph above is a CDV of the author Ella Wheeler Wilcox. She was born in 1850 in the small town of Johnstown, Wisconsin.
This would be a very early photograph of her, likely around the age of 15 or 16. Has ink staining around the edges but her portrait is clean. The rest of the album is full of other family members, friends, etc.
Most are labeled with at least a first name. There are 38 photographs with about 10 of them being tintypes. The actual album is in poor shape, but many of the Civil War photographs are in very nice shape and very clear as shown.
This incredible find was part of a 40+ year collection out of Iowa. Its quite rare to find albums such as this, and Wisconsin Civil War photograph albums are nearly impossible to find.
There are 4 positively identified soldiers in this group, not to mention family photographs showing Roswell Tripp after the war. A real treasure and something that would be a highlight in any collection!
Be sure to check out my auctions for another rare Civil War photograph album, some advertising and great Americana that are for sale. Also, I will not lower values on a custom form as this is against federal law.
Please do not ask to lower the value. The item "Rare Civil War Photograph Album, 27th Wisconsin & 1st Minnesota Vol Infantry" is in sale since Thursday, June 30, 2016. This item is in the category "Collectibles\Militaria\Civil War (1861-65)\Original Period Items\Photographs".
The seller is "sawyerauctions" and is located in Fargo, North Dakota. This item can be shipped worldwide.