Identified Slave, Turned CIVIL War Soldier, Lived To Be 100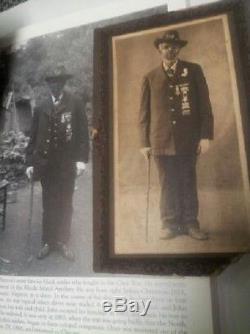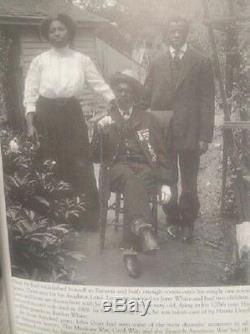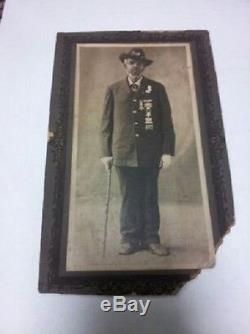 Extremely Rare identified photograph of a former slave turned Civil War Soldier. From the Collection of the Batavia Historical Society. By Jim and Wynette Edwards. Batavia was a destination for all sorts of people from Foreign lands, the eastern seaboard states, and the south in the latter half of the 19th century. Blacks made their way into the community from the south as either freedmen or runaway slaves.
The first recorded reference to the black population was made in 1860, noting that there were three black families living in Batavia. These 25 blacks lived openly in the community, free from bounty hunters. This small community of blacks was joined during and after the Civil War by even more, indicating that Batavia was a safe and friendly place for settlement.
Blacks in the north, including those in Batavia, had to fight hard just for the chance to serve their country during the Civil War. Union armies refused to have blacks fight with them in battles, and the first action black soldiers saw when they were allowed into special units was in mess duty, gunnery crews, and other support roles. The State of Illinois was also reluctant to place blacks in white fighting companies, or constitute all-black units. This is understandable politically once you realize that there were thousands of citizens in Illinois who sympathized more with the south than the north in the war. There were ten blacks who served to keep the Union intact by becoming soldiers of freedom and who lived in Batavia after the war. Most fought in a national infantry unit called the United States Colored Infantry (USCI). Other Batavia blacks served with the 4th US Colored Heavy Artillery and the 14th Regiment RI Heavy Artillery. When blacks were allowed to take part in the war and bear arms, they fought with great distinction as separate fighting units. When those who served came home, they became respected members of the community and active members of the GAR Post 48.
John Ozier is Batavia's most famous black settler who fought in the Civil War. He served with the 14th Regiment of the Rhode Island Artillery. He was born right before Christmas 1818, in Lowden County, Virginia, as a slave. In the course of his slavedom, he had three or four different masters.
As was typical when slaves were traded, families were separated, and John was separated from his wife and child. John escaped his bondage in 1863, and made his way to Chicago where he enlisted. It was only in 1863, when the war was going badly, that the North, contrary to Lincoln's wishes, began to form colored companies. Ozier was mustered out of the Army on Oct.
He told a granddaughter that he came to Batavia after the Chicago fire in 1871. He married his second wife, Annie, in 1867 and built a cabin in Batavia at the corner of River and Gore Streets. John Ozier was a member of the Batavia Post of the Grand Army of the Republic, appearing proudly at parades and official gatherings. He was also a member of the Secret Society of Masons.
In the late 1890's, John had a store just outside of Laurelwood Park, one of two large amusement centers built in Batavia by competing railroad companies. His shop featured candy, tobacco, and a general line of tourist goods.
Once he had established himself in Batavia and built enough rooms onto his simple one-room house, Ozier sent for his daughter, Lena. Lena was married to Jerry White and had two-children. Lena and Jerry are shown here with John (see photo) John lived to be very old, dying in his 100th year. His beloved second wife died in 1908. In his declining years, he was taken care of by Hattie Lloyd and his grandson, Fenlen White.
In those hundred years, John Ozier had seen some of the most dramatic moments in all of American history. The Mexican War, Civil War, and theish-American War had all happened within his lifetime. He died at the end of World War I. He had started life as a piece of property and ended his life as a respected and famous citizen of Batavia. John Ozier's obituary gives us a small measure of what must have been a remarkable and resilient man.
Johnny was an original character. He possessed a bright mind and genial disposition. He drew many friend around him.
Having lived here for 56 years, he was well and favorable known, being popular among the whites as well as the colored. When he died on the 9th of June 1919, at the age of 100, he was Batavia's oldest citizen. Corner missing and small faults to the edges of the cardboard..
Small corner creases at the unprotected lower right corner of the photograph. Otherwise no other damage to the actual photo.. Signs of aging etc as to be expected on these old sepia photographs.
Age and year of photo: unknown. Dimensions: roughly 6 1/2" x 4". Photo: roughly 5 1/2" x 3". Hopefully it will go to a history buff who will appreciate it as much as I do. The item "IDENTIFIED SLAVE, TURNED CIVIL WAR SOLDIER, LIVED TO BE 100" is in sale since Wednesday, October 18, 2017.
This item is in the category "Collectibles\Militaria\Civil War (1861-65)\Original Period Items\Photographs". The seller is "revenue2" and is located in Batavia, Illinois. This item can be shipped to United States.
Country/Region of Manufacture: United States
Civil War Union Soldier: cabinet photo not tintype