Civil War CDV Union Colonel & BBG Gilbert M L Johnson 2nd Indiana Cav, 11/13th V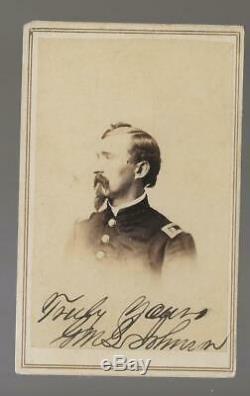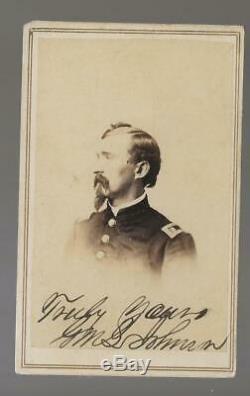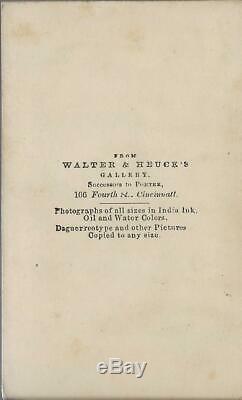 CDV Autographed of Gilbert Marquis LaFayette Johnson 2nd Indiana Cavalry, 11th & 13th Indiana Vols. Forty-first Indiana Regiment (2nd Indiana Cavalry). Stewart, Samuel Hill, Jehu C. Hannum, James Conner, Isaiah D. This regiment was organzed at Indianapolis in Sept, 1861, being the first complete cavalry regiment raised in the state.
It was mustered in Dec. 9 and left the state on the 16th for Louisville, going from there to Camp Wickliffe.
It moved with Buell's army to the Tennessee, reaching the field at Shiloh after the battle. It was in a skirmish enroute for Corinth, was engaged at Pea Ridge in April, and participated in a reconnoisance in force a few days later, driving the enemy for 3 miles. It was actively engaged in the siege of Corinth, and after the evacuation moved with Buell's army into northern Alabama. It was engaged at Tuscumbia, was in the engagements at McMinnville and Gallatin in August, and moved into Kentucky in September in pursuit of Bragg, being engaged at Vinegar hill and Perryville. A detachment under command of Maj.
Hill, recaptured a government train, killing 20 of the Confederate cavalry and capturing 200 prisoners. The regiment was on duty near Nashville during the winter af 1862-63 and from there proceeded to Kentucky, returning after a few months to Tennessee. It was engaged at Triune in June; was on railroad guard duty during the fall; moved into eastern Tennessee at the approach of winter; was in a sharp fight at Talbot's station in December and reenlisted on Jan. 10, 1864, at Mossy creek.
It was engaged in numerous scouts and skirmishes during the winter, joined Sherman's army in May and accompanied it to Atlanta, being engaged at Varnell's station, Acworth, Newnan, and near Atlanta. After the occupation of Atlanta the non-veterans were mustered out and the veterans and recruits were consolidated into a battalion of four companies, under command of Maj.
This battalion was on duty in Kentucky in November and December and was transferred to the vicinity of Eastport, Ala. It participated in the raid through Alabama, being engaged at Scottsville and West Point, suffering severely. It was mustered out July 22, 1865. The original strength of the regiment was 1,039; gain by recruits, 301; reenlistments, 5; total, 1,345.
Loss by death, 131; desertion, 47; unaccounted for, 273. One Hundred and Thirty-first Indiana Regiment (13th Indiana Cavalry). Stephens, Isaac DeLong, John T. This regiment was organized during the fall and winter of 1863-64, being the last cavalry organization formed in the state and the 131st of the line. It was mustered in April 29, 1864, and left the state on the 30th, proceeding to Nashville, where it was dismounted and given infantry arms and accouterments.
It was ordered to Huntsville, Ala. May 31 for garrison duty, being engaged in several skirmishes with bands of cavalry and on Oct.
1 it held the place against Buford's entire command. A, C, D, F, H and I, under Col. Johnson, proceeded to Louisville for the purpose of securing new mounts and equipments for the regiment. Being cut off they retired upon Murfreesboro, participating in the battles of Overall's creek, Wilkinson's pike, and twelve skirmishes, losing 65 men in killed and wounded and 2 missing. B, E, G, K, L and M, had moved in the meantime from Huntsville to Nashville, in command of Lieut.
Pepper, and participated, dismounted, in the battle of Nashville. Immediately after this, joining the other six companies, the entire regiment received new mounts and arms and was assigned to the 2nd brigade, 7th division, cavalry corps of the military division of the Mississippi. The regiment proceeded down the river, Feb. From there it moved to Mobile, where it assisted in the operations against Spanish Fort and Fort Blakely, and engaged in running a courier line to Florida.
After the fall of Mobile it moved with Grierson's command on the raid through Alabama, Georgia and Mississippi, reaching Columbus May 22. It garrisoned that point and patrolled the line of railroad for 60 miles, taking possession of a large amount of captured stores and ordnances. Johnson was assigned to the command of the sub-district of northeast Mississippi, and continued to hold that position until the muster-out of the regiment, being brevetted brigadier- general. The command of the regiment then devolved upon Lieut. The original strength of the regiment was 1,157; gain by recruits, 236; total, 1,395.
Loss by death, 136; desertion, 87; unaccounted for, 9. The item "Civil War CDV Union Colonel & BBG Gilbert M L Johnson 2nd Indiana Cav, 11/13th V" is in sale since Saturday, February 23, 2019. This item is in the category "Collectibles\Militaria\Civil War (1861-65)\Original Period Items\Photographs".
The seller is "civil_war_photos" and is located in Midland, Michigan. This item can be shipped worldwide.