Russian Civil War Photo Baron Roman von Ungern-Sternberg & Ataman Semyonov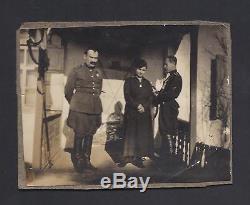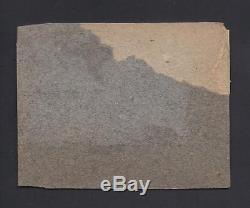 Bibelotslondon deal in ephemera and curiosities from Britain and around the world. Our diverse inventory is carefully chosen and constantly evolving. We work very hard to offer the highest quality works at competitive prices and we may be able to source specific pieces for our clients upon request. Our inventory is listed online, and we strive to keep our website completely up to date, so our customers can easily check availability. We believe in offering clients items that are unique and rare for aficionados of the antiques and collectors world. While serving in the Caucasus in World War I Ungern met another officer shunned by his peers, Semyonov. He and Sternberg tried to organize a regiment of Assyrian Christians to aid in the fight against the Turks. In July 1917, Semyonov left the Caucasus and was appointed Commissar of the Provisional Government in the Baikal region, responsible for recruiting a regiment of Buryat volunteers. After the Bolshevik-led October Revolution of 1917, Semyonov and Ungern declared their allegiance to the Romanovs and vowed to fight the revolutionaries. Ungern began his career as a White leader by telling the Cossack captain Stepanov that just he together with Semyonov and Ungern were going to disarm the mutinous Russian garrison at Manchuli just across the border in China where the local soldier's soviet were trying their officers and declared their loyalty to the Bolsheviks. Semyonov and Ungern, though fervently anti-Bolshevik, were not part of the White movement and Semyonov refused to recognize the authority of Admiral Aleksandr Kolchak, the nominal leader of the Whites in Siberia. For White leaders, like Kolchak and Denikin, who believed in a "Russia strong and indivisible", this represented high treason. Ungern was nominally subordinated to Semyonov but he too often acted independently. Admiral Kolchak was a conservative, but not a monarchist who promised that after the victory of the Whites, he would reconvene the Constituent Assembly disbanded by the Bolsheviks in January 1918, which would then decide the future of Russia, including the question of whatever to restore the monarchy or not.
For the ultra-conservative monarchist Ungern-Sternberg, Admiral Kolchak's politics were far too moderate for his taste, and the idea that the future of Russia would be decided by a Constituent Assembly democratically elected by universal suffrage was an outrage as Ungern believed in the divine right of kings. Ungern believed that emperors were accountable only to God, and the monarchy was the political system that God had chosen for Russia, so it was self-evident that the monarchy should be restored back to the way it had existed before the October Manifesto of 1905. For Ungern, the opinions of the people of Russia were irrelevant as monarchs were not accountable to the people.
Ungern-Sternberg became an independent warlord whose Asiatic Cavalry Division wrested control of Mongolia from the occupation of Mongolia by the Republic of China in 1921. During the Russian Civil War, Ungern's attraction to Vajrayana Buddhism and his eccentric, often violent treatment of enemies and his own men, earned him the sobriquet "the Mad Baron". He was also an arch conservative pan-monarchist who aspired to restore the Russian monarchy under Grand Duke Michael Alexandrovich of Russia and to revive the Mongol Empire under the rule of the Bogd Khan. During his five-month occupation of Outer Mongolia, Ungern imposed order on the capital city, Ikh Khüree, through fear, intimidation, and brutal violence against his opponents, particularly Bolshevik supporters.
In June 1921 he went on to invade South Siberia, in support of anti-Bolshevik rebellions and to head off a Red Army-Mongolian partisan invasion, and this action led to his defeat and capture two months later. He was taken prisoner by the Red Army and a month later was put on trial for counterrevolution in Novonikolaevsk. After a six-hour show trial, he was found guilty, and on September 15th 1921, he was executed.
Semyonov was a Japanese-supported leader of the White movement in Transbaikal and beyond from December 1917 to November 1920, Lieutenant General and Ataman of Baikal Cossacks (1919). Semyonov was born in the Transbaikal region of eastern Siberia. His father, Mikhail Petrovich Semyonov, was of partial Buryat descent. He joined the Imperial Russian Army in 1908, and graduated from Orenburg Military School in 1911. He was commissioned as a yesaul (Cossack ensign) and distinguished himself in battle against the Germans and Austro-Hungarians in World War I, earning the Saint George's Cross for courage.
He was somewhat of an outsider among the his fellow officers because of his ethnicity. After the October Revolution, Semyonov stirred up an anti-Soviet rebellion, but sustained a defeat and fled to the northeastern Chinese city of Harbin. In August 1918, he managed to consolidate his positions in the Transbaikal region with the help of the Czechoslovak Legions, and imposed his ruthless regime. " As a part Buryat Mongol, Ataman Semyonov declared a "Great Mongol State in 1918 and had designs to unify the Oirat Mongol lands, portions of Xinjiang, Transbaikal, Inner Mongolia, Outer Mongolia, Tannu Uriankhai, Kobdo, Hulunbei'er and Tibet into one Mongolian state.
The White Siberian Provisional Government appointed Semyonov commander of a detached unit with the headquarters in Chita. Initially, Admiral Aleksandr Kolchak refused to recognize Semyonov's authority, but he had no choice but to accept Semyonov as de facto leader and confirm Semyonov as Commander-in-Chief of the Chita military district. In early 1919, Semyonov declared himself Ataman of the Transbaikal Cossack Host with support from the Imperial Japanese Army, elements of which had been deployed to Siberia.
The region under his control extended from Verkhne-Udinsk near Lake Baikal to the Shilka River and town of Stretensk, to Manzhouli, where the Chinese Eastern Railway met the Chita Railway, and northeast some distance along the Amur Railway. After the fall of Kolchak's Siberian government, the admiral transferred power to Semyonov in the Far East. However Semyonov was unable to keep his forces in Siberia under control: they stole, burned, murdered, and raped, and developed a reputation for being little better than thugs. In July 1920 the Japanese Expeditionary Corps started a limited withdrawal in accordance with the Gongota Agreement signed with the Far Eastern Republic, undermining support for Semyonov.
Transbaikal partisans, internationalists and the 5th Soviet Army under Genrich Eiche launched an operation to re-take Chita. In October 1920, units of the Red Army and guerrillas forced Semyonov's tiny army out of the Baikal region. After having retreated to Primorye, Semyonov tried to continue fighting the Soviets, but was finally forced to abandon all Russian territory by September 1921. After failing to settle in Nagasaki via Harbin, Semyonov stayed in the United States for a period of time, where he was soon accused of committing acts of violence against the American soldiers of the Expeditionary Corps.
In Tianjin, he had ties with the Japanese intelligence community and mobilized exiled Russian and Cossack communities, planning to eventually overthrow the Russians. He was also employed by Puyi, the dethroned Emperor of China, who he wished to restore to power. Semyonov was captured in Dalian by Soviet paratroopers in September 1945 during the Soviet invasion of Manchuria, when the Soviet Army conquered Manchukuo. He was charged with counterrevolutionary activities and sentenced to death by hanging by the Military Collegium of the Supreme Court of the USSR. He was executed on August 29, 1946.
Size: 7.5 x 6 cm approx. Photos form part of the description.
International items may take longer. Bibelotslondon cannot be held responsible for items lost abroad. The item "Russian Civil War Photo Baron Roman von Ungern-Sternberg & Ataman Semyonov" is in sale since Friday, February 09, 2018. This item is in the category "Collectables\Photographic Images\Antique (Pre-1940)\Photographs".
The seller is "bibelotslondon" and is located in london. This item can be shipped worldwide.
Framing: Unframed
Subject: Russian Civil War
Colour: Black & White
Date of creation: 1919
Original/ Reprint: Original Print