CIVIL WAR ERA PHOTO ALBUM With 32 CDVS SIGNED GARIBALDI HOLMES VANDERBILT WEBSTER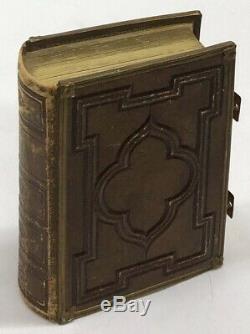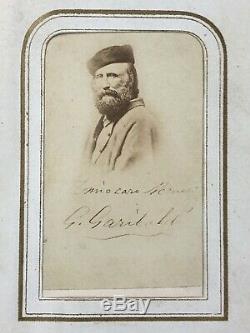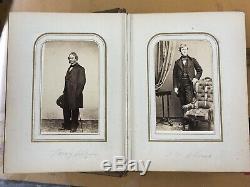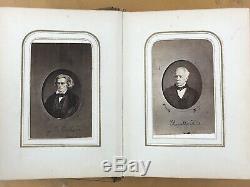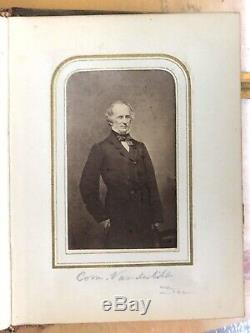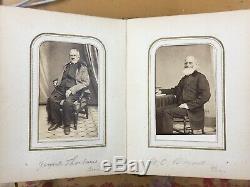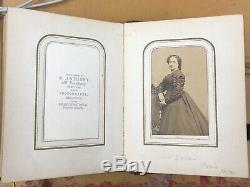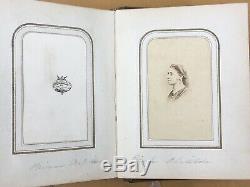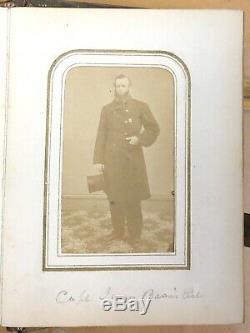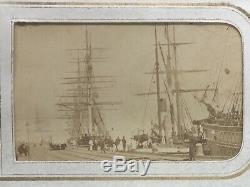 Carte de visite album, 5" X 6 1/4" x 2 1/8 inches, with 32 Civil War era CDVs. Garibaldi [SIGNED] (Giuseppe Garibaldi, an Italian general, politician and nationalist who played a large role in the history of Italy, considered one of the greatest generals of modern times), Tony Fellow? American physician, poet, and humorist notable for his medical research and teaching, and as the author of the Breakfast-Table series of essays. E K Kane (Elisha Kent Kane, an American explorer, and member of two Arctic expeditions to rescue the explorer Sir John Franklin), H Clay (Henry Clay, served three non-consecutive terms as Speaker of the House of Representatives, helped elect John Quincy Adams as president, and Adams subsequently appointed Clay as Secretary of State), J C Calhoun (John Caldwell Calhoun, was an American statesman and political theorist from South Carolina, and the seventh Vice President of the United States from 1825 to 1832), Chancellor Kent (James Kent, an American jurist and legal scholar), Washington Irving an American short story writer, essayist, biographer, historian, and diplomat, best known for his short stories "Rip Van Winkle" (1819) and "The Legend of Sleepy Hollow", Lord Taylor, Ed Everett Edward Everett, an American politician, pastor, educator, diplomat, and orator from Massachusetts.
Everett, a Whig, served as U. Senator, the 15th Governor of Massachusetts, Minister to Great Britain, and United States Secretary of State. He also taught at Harvard University and served as its president.
[wikipedia], Dan Webster Daniel Webster, an American politician who twice served in the United States House of Representatives, representing New Hampshire (18131817) and Massachusetts (18231827), served as a U. Senator from Massachusetts (18271841 and 18451850) and was twice the United States Secretary of State, under Presidents William Henry Harrison and John Tyler (18411843) and Millard Fillmore (18501852). [2] He and James G. Blaine were the only two people to serve as Secretary of State under three presidents. Webster also sought the Whig Party nomination for President three times: in 1836, 1840 and 1852. Fenimore Cooper (James Fenimore Cooper, a prolific and popular American writer), Com.
Elliot Artist, Lord Lyons Richard Bickerton Pemell Lyons, 1st Earl Lyons, 1st Viscount Lyons, 2nd Baron Lyons, 2nd Baronet, of Christchurch, an eminent British diplomat, the favourite of Queen Victoria. Lyons was an imperative element of British diplomacy during each of the four great crises of the second half of the 19th century: Italian unification, the American Civil War, the decline of the Ottoman Empire, and the replacement of France, by the unified Germany, as the dominant Continental power. He is best known for solving the Trent Affair during the American Civil War, for laying the foundations for the Special Relationship, and for predicting, 32 years before World War One, the occurrence of an imperial war between France and Germany that would destroy Britains international dominance. [wikipedia], Grant Thorburn (author), W.
Bryant (William Cullen Bryant, an American romantic poet, journalist, and long-time editor of the New York Evening Post), Mrs. Ellis Sarah Stickney Ellis, a Quaker turned Congregationalist who was the author of numerous books, mostly written about women's role(s) in society. She argued that it was the religious duty of women, as daughters, wives, and mothers, to provide the influence for good that would improve society. [wikipedia], Princess Clotilde Princess Maria Clotilde of Savoy, was born in Turin to Vittorio Emanuele II, later King of Italy and his first wife Adelaide of Austria. She was the wife of Napoléon Joseph Charles Paul Bonaparte.
Smith Hadden, Robert Mcfinger, D. The Album will not be broken up. RD consignment; shelved case 1. The item "CIVIL WAR ERA PHOTO ALBUM With 32 CDVS SIGNED GARIBALDI HOLMES VANDERBILT WEBSTER" is in sale since Sunday, April 7, 2019. This item is in the category "Collectibles\Photographic Images\Vintage & Antique (Pre-1940)\CDVs".
The seller is "ssbantiques" and is located in Rockville, Maryland. This item can be shipped worldwide.
Original/Reprint: Original Print
Subject: Figures & Portraits; Landscape
Date of Creation: 1800-1899
Size Type/Largest Dimension: 2.5" x 4"
Photo Type: Carte de Visite (CDV)