1850s Tintype Photo Civil War Gen. JAMES H LANE, STEPHEN DOUGLAS Abraham Lincoln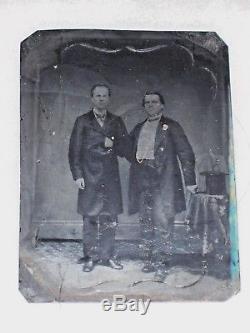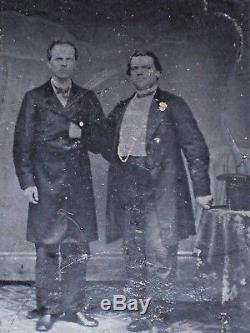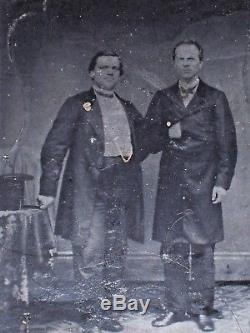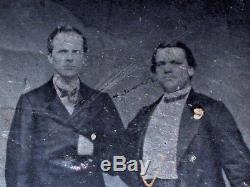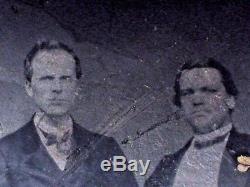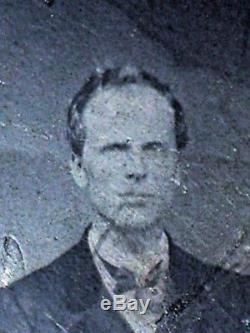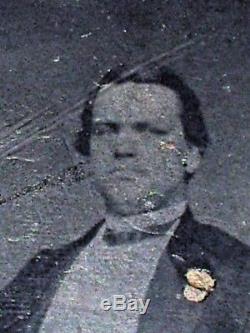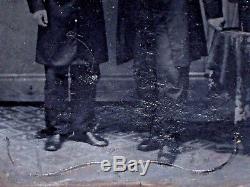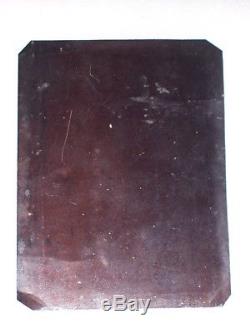 Extremely rare, unpublished, 1850s 1/4 quarter-plate size Tintype Photo featuring Pre-Civil War Union General JAMES HENRY LANE (see bio below) & STEPHEN ARNOLD DOUGLAS (see bio below) President Abraham Lincoln's 1860 Presidential Election Political Opponent. Douglas's watch chain and a button on Lane's coat is painted gold. The design around the near outer edge, was made from the original brass mat being pressed into the surface. These 2 men would later turn against one another. Douglas would talk bad about Lane, which led Lane to challenge Douglas to a duel, which Douglas would rather decline.
Just in case you are not aware, tintype photos were taken in reverse. This tintype has some wear with surface scratches, bends, tiny rust spots and measures approximately 3 1/8 x 4 1/8 inches. Also known as Jim Lane, (June 22, 1814 July 11, 1866) was a partisan during the Bleeding Kansas period that immediately preceded the American Civil War.
During the war itself, Lane served as a United States Senator and as a general for the Union. Although reelected as a Senator during 1865, Lane committed suicide the next year. The son of Amos Lane, Lane was born in Lawrenceburg, Indiana, [1] where he practiced law when he was admitted to the state bar during 1840. During the Mexican-American War, he successively commanded the 3rd and 5th Indiana Regiments.
Congressman from Indiana (18531855) where he voted for the Kansas-Nebraska Act. He relocated to the Kansas Territory during 1855. He immediately became involved with abolitionism in Kansas, and was often termed the commander of the Free State Army ("The Red Legs" or Jayhawkers), a major Free Soil militant group. In 1855 he was the president of the convention that drafted the anti-slavery Topeka Constitution. After the Free Soilers succeeded in getting Kansas admitted to the Union during 1861 as a free state, Lane was elected as one of the new state's first U. Senators, and reelected during 1865. During the American Civil War, in addition to his Senate service, Lane formed a brigade of "Jayhawkers" known as the "Kansas Brigade", or "Lane's Brigade", composed of the Third, Fourth, and Fifth Kansas Volunteers.
He commanded this force into action against pro-Southern General Sterling Price of Missouri in the Battle of Dry Wood Creek, as Price began an offensive early in the War to retake Missouri for the pro-Confederate state government that had been deposed by pro-Union forces around St. Lane lost the battle but stayed behind and attacked pro-South areas in Missouri behind Price. His raids culminated in the Sacking of Osceola, in which Lane's forces killed at least nine men, then pillaged, looted, and then burned the town; these events inspired the novel Gone To Texas by Forrest Carter, which was the basis for the 1976 Clint Eastwood movie The Outlaw Josey Wales. Lane was criticized for his violence in Osceola, most severely by General Henry Halleck, then Commander of the Department of Missouri. Of their actions, he would state: The course pursued by those under Lane and Jennison has turned against us many thousands who were formerly Union men.
A few more such raids will make this State unanimous against us. Thus, Lane's Brigade was ended. On December 18, 1861 Lane was appointed brigadier general of volunteers. On March 21, 1862, his commission was canceled in culmination of an argument over whether a sitting U.
Senator could concurrently have the rank of General. However, on April 11, 1862, he was reinstated as brigadier general of volunteers with the confirmation of the U. During 18621863, he served as recruiting commissioner for the State of Kansas. On October 2729, 1862, U. Senator Jim Lane recruited the 1st Regiment Kansas Volunteer Infantry (Colored) who debuted at the Skirmish at Island Mound.
They are the first African-American troops to fight in the war, a year before the 54th Massachusetts. In their first action, 30 of their members defeated 130 mounted Confederate guerrillas. Lane was the target of the event that became the Lawrence Massacre (or Quantrill's Raid) on August 21, 1863. Confederate guerrillas could be heard shouting, Remember Osceola! Though Lane was in residence in Lawrence at the time, he was able to escape the attack by racing through a nearby ravine.
During 1864 when Sterling Price invaded Missouri, Lane served as a volunteer aide-de-camp to Samuel R. Curtis, commander of the Army of the Border. Lane was with the victorious Union forces at the battle of Westport. On July 1, 1866 Lane shot himself[5] in the head as he jumped from his carriage in Leavenworth, Kansas.
He was allegedly deranged, depressed, had been charged with abandoning his fellow Radical Republicans and had been accused of financial irregularities. He died ten days later near Leavenworth, Kansas, a result of the self-inflicted gunshot. Ross was appointed to succeed him in the Senate.
The following places were named in honor of the late senator. Jim Lane appears as a character in Wildwood Boys (William Morrow, New York; 2000), a biographical novel of Bloody Bill Anderson by James Carlos Blake. Jim Lane is a main character in the new book, "The 116" by James P. Stephen Arnold Douglas (April 23, 1813 June 3, 1861) was an American politician from Illinois and the designer of the KansasNebraska Act. He was a member of the House of Representatives, the United States Senate, and the Democratic Party nominee for president in the 1860 election, losing to Republican Abraham Lincoln. Douglas had previously defeated Lincoln in a Senate contest, noted for the famous LincolnDouglas debates of 1858. He was nicknamed the "Little Giant" because he was short in physical stature, but a forceful and dominant figure in politics.
His height is given in various sources as being in the range of 5 feet (1.5 m) to 5 feet 4 inches (1.63 m); five feet four is reported most often. Douglas was well known as a resourceful party leader, and an adroit, ready, skillful tactician in debate and passage of legislation. He was a champion of the Young America movement which sought to modernize politics and replace the agrarian and strict constructionist orthodoxies of the past.
Douglas was a leading proponent of democracy, and believed in the principle of popular sovereignty: that the majority of citizens should decide contentious issues such as slavery and territorial expansion. As chairman of the Committee on Territories, Douglas dominated the Senate from 1850 to 1859.
He was largely responsible for the Compromise of 1850 that apparently settled slavery issues; however, in 1854 he reopened the slavery question with the KansasNebraska Act, which opened some previously prohibited territories to slavery under popular sovereignty. Opposition to this led to the formation of the Republican Party. Douglas initially endorsed the Dred Scott decision of 1857. But during the 1858 Senate campaign, he argued its effect could be negated by popular sovereignty. He also opposed the efforts of President James Buchanan and his Southern allies to enact a Federal slave code and impose the Lecompton Constitution on Kansas.
In 1860, the conflict over slavery led to the split in the Democratic Party in the 1860 Convention. Hardline pro-slavery Southerners rejected Douglas, and nominated their own candidate, Vice President John C. Breckinridge, while the Northern Democrats nominated Douglas. Douglas deeply believed in democracy, arguing the will of the people should always be decisive. When civil war came in April 1861, he rallied his supporters to the Union cause with all his energies, but he died of typhoid fever a few weeks later. The item "1850s Tintype Photo Civil War Gen. JAMES H LANE, STEPHEN DOUGLAS Abraham Lincoln" is in sale since Monday, April 30, 2018. This item is in the category "Collectibles\Photographic Images\Vintage & Antique (Pre-1940)\Tintypes". The seller is "sparklecouple13" and is located in Marion, North Carolina. This item can be shipped to United States.
Original/Reprint: Original Print
Color: Black & White
Photo Type: Tintype
Size Type/Largest Dimension: Small (Up to 7")
Region of Origin: US
Framing: Unframed
Country/Region of Manufacture: United States
Subject: Military & Political
Date of Creation: 1850-1859
Listed By: Dealer or Reseller