Civil War CDV Colonel Thomas A Roberts 17th Maine Vols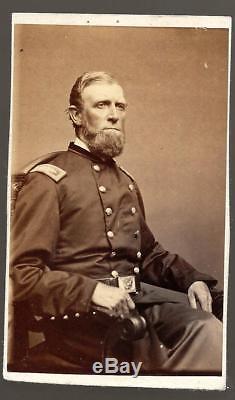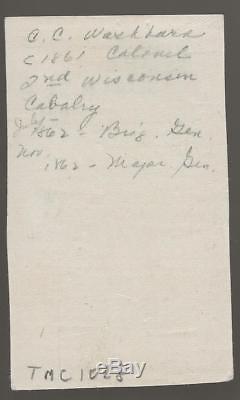 With all the lead flying, a savage battle like Chancellorsville brought promotion for an aspiring young officer or NCO, especially if a bullet struck the right place on someone else. Absent when his 17th Maine Infantry Regiment fought with III Corps and Daniel Sickles in the fields and woods comprising the Chancellorsville battlefield, Col.
Thomas Roberts sat down on Tuesday, May 12, 1863 and wrote Maine Gov. Abner Coburn about the number of vacancies in the 17th which had ought to be filled. A capable colonel like Roberts could not summarily promote men, especially in a state-raised regiment like the 17th. Since Coburn was Maines military commander in chief, Roberts could only recommend specific soldiers and after Chancellorsville the men who I wish to propose to fill these places have been tried & have proved themselves worthy.
Thomas Roberts of the 17th Maine Infantry sent Maine Gov. Abner Coburn a long list of recommended promotions after the Battle of Chancellorsville. Roberts wasted no time or ink in recommending the men to your favorable consideration. The fact that almost all of the ducks in Roberts row hailed from one particular place in Maine was probably not lost on the wily Abner Coburn.
First, there was the first lieutenants vacancy in Co. H, caused by the death of Lieut. Johnson who was killed at Chancellorsville on Sunday (May 3) while doing his duty like a brave soldier as he was. From Presque Isle, Johnson was 32 and married when he had mustered with the 17th Maine on August 16, 1862.
Perhaps Coburn would understand that an even greater vacancy now existed at the Johnson home in Presque Isle. Roberts recommended that 2nd Lt.
A and Portland replace Johnson. And in case your Excellency promotes Lieut.
Houghton I would recommend Orderly Sergeant Granville F. Sparrow (of Portland) for 2nd Lieut. F was vacant, so Roberts recommended that 1st Lt. Perry now in command of the Co.
A Portland resident, he had initially served as second lieutenant of Co. F officer actually on duty was 2nd Lt. Stevens, a 22-year-old from Paris in Oxford County when he had enlisted as a sergeant in the company the previous August. Roberts asked Coburn to make Stevens the companys first lieutenant and to promote Sgt.
Like Roberts and Houghton and Perry, Bartells came from Portland. Did Coburn sense a trend? Next on the list was 1st Lt. Portland for promotion to captain of Co.
B, in which he had served since August 1862. To fill Pennells slot, would the governor kindly promote 2nd Lt.
And while at it, could the good guv promote 1st Sgt. B and, of course, Portland to replace Green? Coburn could see where this list of recommendations was going. Perry of Portland has been command for several months, so Roberts recommended him for promotion to captain. To replace Perry, Roberts offered 2nd Lt.
Newton Whitten; to replace him, Roberts asked Coburn to promote Orderly Sgt. Well, that was that, Roberts concluded.
The recommended soldiers would fill their places like worthy sons of Maine, & I believe in the late Battles the 17th has done its duty & have endeavored to uphold the honor of the Old Pine Tree State, he informed Coburn. I have the honor to be your Obedient Servant, he assured the guv.
But a serious oversight existed in the letter; Thomas Roberts had overlooked the dead man walking and talking. On May 14, Roberts informed Coburn that in reference to the letter of the 12th, recommending certain officers [and NCOs] for promotion[,] I would like to make a change. Rather than promote 1st Sgt. B to second lieutenant in that company, I would like to substitute the name of Orderly Sergeant James S.
B (and Portland), Roberts wrote Coburn. Jim Roberts was reported killed in the battle of Chancellorsville, Thomas Roberts explained. We all supposed he was until this morning when he was brought in among the wounded & is doing well.
He was wounded in the side & arm & fainted & when last seen by our men was in that condition & was supposed to be dead, the good colonel wrote, probably a bit sheepishly. He has done his duty like a man & I consider him worthy [of] promotion & would there fore strongly recommend [him] to your favorable consideration, Thomas Roberts concluded. Abner Coburn commissioned dead man James S. Roberts as a second lieutenant.
Almost all the other recommended soldiers received their promotions, too. Served as Colonel 7/62-6/63 when discharged for disability. The item "Civil War CDV Colonel Thomas A Roberts 17th Maine Vols" is in sale since Friday, December 14, 2018. This item is in the category "Collectibles\Militaria\Civil War (1861-65)\Original Period Items\Photographs".
The seller is "civil_war_photos" and is located in Midland, Michigan. This item can be shipped worldwide.