RARE Real Photo GAR Civil War Soldiers Veterans Capt C Cook 81st NY 1915 RPPC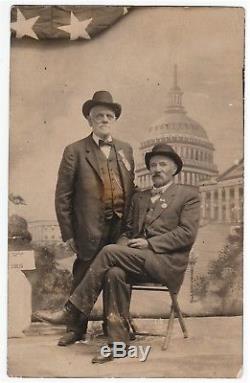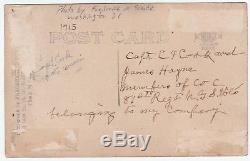 RARE Original Real Photograph Postcard. GAR - Civil War Vets. & James Hane (misspelled Hayne). 81st Regiment, Company C, NYSV. For offer, a rare unique image. Fresh from a prominent estate in Upstate NY. Never offered on the market until now. Vintage, Old, Original, Antique, NOT a Reproduction - Guaranteed!! This interesting photo these two identified GAR members. Handwritten on back by one of these men, or another member. By well known photographer at the 1915 encampment of the GAR. See below for more information on these two men. In good to very good condition - small rip to edge, corner wear / bumped. Old marks on back, some surface wear. If you collect 19th century Americana history, American photography, military, CW, Oswego County, NY, etc. This is a treasure you will not see again! Add this to your image or paper / ephemera collection. Important genealogy research importance too. From Roster of the 81st NY. 1861, a t Vienna , to serve three years ; mustered in as corporal. C, December 21, 1861; promoted sergeant, December 4. 1862; re-enlisted as a veteran , January 1, 1864; promoted first. Sergeant, November 1,1864; mustered i n as first lieutenant, Co. K , November 10,1864 ; as Captain , Co. C, January 31,1865 ; dis.
Commissioned first lieutenant, November 30,1864, with rank. From November 10, 1864, vice E. Januar y 31, 1865, with rank from Januar y 1, 1865, vice.
Enlisted, October 23, 1861, at. Ohio, to serve three years; mustered in as musician, Co. November 13, 1861; grade changed to private, no date.
Wounded in action, May 31, 1862, at Seven Pines, Va. As a veteran, January 1, 1864; promoted corporal. April 27, 1864; wounded in action, June 3, 1864, at Cold Harbor. Promoted sergeant, May 1, 1865; mustered out with. Company, August 31,1865, at Fort Monroe, Va.
The 81st New York Volunteer Infantry (aka "2nd Oswego Regiment" and "Mohawk Rangers") was an infantry regiment in the Union Army during the American Civil War. The 81st New York Infantry was organized at Albany, New York beginning February 18, 1862 and mustered in December 20, 1861 through February 20, 1862 for a three-year enlistment under the command of Colonel Edwin Rose. The regiment was attached to 3rd Brigade, 3rd Division, IV Corps, Army of the Potomac, to June 1862.
2nd Brigade, 2nd Division, IV Corps, to June 1862. 1st Brigade, 2nd Division, IV Corps, December 1862.
Naglee's Brigade, Department of North Carolina, to January 1863. 1st Brigade, 2nd Division, XVIII Corps, Department of North Carolina, to February 1863. 1st Brigade, 1st Division, XVIII Corps, Department of the South, to April 1863. District of Beaufort, North Carolina, XVIII Corps, to October 1863. Newport News, Virginia, Department of Virginia and North Carolina, to January 1864.
District of the Currituck, Department of Virginia and North Carolina, to March 1864. 1st Brigade, Heckman's Division, Department of Virginia and North Carolina, to April 1864.
1st Brigade, 1st Division, XVIII Corps, Army of the James, to December 1864. 1st Brigade, 3rd Division, XXIV Corps, to July 1865.
1st Independent Brigade, XXIV Corps, to August 1865. The 81st New York Infantry mustered out of service on August 31, 1865. Left State for Washington, D.
Duty at Kalorama Heights, defenses of Washington, D. Moved to the Peninsula, Va. Siege of Yorktown April 5-May 4. Reconnaissance toward Lee's Mills April 29. Battle of Williamsburg May 5. Battle of Seven Pines or Fair Oaks May 31-June 1. Seven days before Richmond June 25-July 1. White Oak Swamp June 30.
At Harrison's Landing until August 16. Movement to Fort Monroe August 16-22, and duty there until September 18. Duty at Yorktown, Norfolk, and Portsmouth until December.
Moved to Morehead City, N. December 28, 1862-January 1, 1863; then to Port Royal, S. Moved to New Bern, N. Expedition to relief of Little Washington April 17-21. Expedition to Trenton July 4-8.
Action at Quaker Bridge July 6. Duty in District of Beaufort, N.
Moved to Newport News, Va. October 16-18, and duty there until January 1864. January 22, and duty there and in the District of the Currituck until April 1864.
Butler's operations on the south side of the James River and against Petersburg and Richmond May 4-28. Occupation of Bermuda Hundred and City Point May 5. Swift Creek or Arrowfield Church May 9-10. Operations against Fort Darling May 12-16. Battle of Drury's Bluff May 14-16.
Moved to White House Landing, then to Cold Harbor May 27-31. Battles about Cold Harbor June 1-12. Siege operations against Petersburg and Richmond June 16, 1864 to April 2, 1865. Mine Explosion, Petersburg, July 30, 1864 (reserve). Battle of Chaffin's Farm, New Market Heights, September 28-30.
Battle of Fair Oaks October 27-28. Duty in the trenches before Richmond until April 1865. Occupation of Richmond April 3. Pursuit of Lee April 4-9.
Appomattox Court House April 9. Surrender of Lee and his army. Duty in the Department of Virginia until August. The regiment lost a total of 239 men during service; 13 officers and 129 enlisted men killed or mortally wounded, 1 officer and 98 enlisted men died of disease.
Colonel Edwin Rose - resigned in July 1862 due to illness. The Grand Army of the Republic (GAR) was a fraternal organization composed of veterans of the Union Army (United States Army), Union Navy U. Navy, Marines and the U. Revenue Cutter Service who served in the American Civil War for the Northern/Federal forces. Founded in 1866 in Decatur, Illinois, and growing to include hundreds of posts (local community units) across the nation (predominately in the North, but also a few in the South and West), it was dissolved in 1956 at the death of its last member, Albert Woolson (18501956) of Duluth, Minnesota. Linking men through their experience of the war, the G. Became among the first organized advocacy groups in American politics, supporting voting rights for black veterans, promoting patriotic education, helping to make Memorial Day a national holiday, lobbying the United States Congress to establish regular veterans' pensions, and supporting Republican political candidates.
Its peak membership, at more than 490,000, was in 1890, a high point of various Civil War commemorative and monument dedication ceremonies. It was succeeded by the Sons of Union Veterans of the Civil War (SUVCW), composed of male descendants of Union Army and Union Navy veterans.
After the end of American Civil War, various state and local organizations were formed for veterans to network and maintain connections with each other. Many of the veterans used their shared experiences as a basis for fellowship. Groups of men began joining together, first for camaraderie and later for political power. Emerging as most influential among the various organizations during the first post-war years was the Grand Army of the Republic, founded on April 6, 1866, on the principles of "Fraternity, Charity and Loyalty, " in Decatur, Illinois, by Dr.
Uniform Hat Badge from Post No. 146, "RG Shaw Post", established by surviving members of the 54th Massachusetts Regiment in 1871. Andre Stevens Civil War Collection. The GAR initially grew and prospered as a de facto political arm of the Republican Party during the heated political contests of the Reconstruction Era.
The commemoration of Union Army and Navy veterans, black and white, immediately became entwined with partisan politics. The GAR promoted voting rights for Negro veterans, as many white veterans recognized their demonstrated patriotism and sacrifices, providing one of the first racially integrated social/fraternal organizations in America. Black veterans, who enthusiastically embraced the message of equality, shunned black veterans' organizations in preference for racially inclusive and integrated groups.
But when the Republican Party's commitment to reform in the South gradually decreased, the GAR's mission became ill-defined and the organization floundered. The GAR almost disappeared in the early 1870s, and many state-centered divisions, named "departments", and local posts ceased to exist. In his General Order No. 11, dated May 5, 1868, first GAR Commander-in-Chief, General John A.
Logan declared May 30 to be Memorial Day (also referred to for many years as "Decoration Day"), calling upon the GAR membership to make the May 30 observance an annual occurrence. Although not the first time war graves had been decorated, Logan's order effectively established "Memorial Day" as the day upon which Americans now pay tribute to all their war casualties, missing-in-action, and deceased veterans. As decades passed, similarly inspired commemorations also spread across the South as "Confederate Memorial Day" or "Confederate Decoration Day", usually in April, led by organizations of Southern soldiers in the parallel United Confederate Veterans. In the 1880s, the Union veterans' organization revived under new leadership that provided a platform for renewed growth, by advocating Federal pensions for veterans. As the organization revived, black veterans joined in significant numbers and organized local posts.
The national organization, however, failed to press the case for similar pensions for black soldiers. Most black troops never received any pension or remuneration for wounds incurred during their Civil War service.
The GAR was organized into "Departments" at the state level and "Posts" at the community level, and military-style uniforms were worn by its members. There were posts in every state in the U. The pattern of establishing departments and local posts was later used by other American military veterans' organizations, such as the Veterans of Foreign Wars (organized originally for veterans of theishAmerican War and the Philippine Insurrection) and the later American Legion (for the First World War and later expanded to include subsequent World War II, Korean, Vietnam and Middle Eastern wars). S political power grew during the latter part of the 19th century, and it helped elect several United States presidents, beginning with the 18th, Ulysses S. Grant, and ending with the 25th, William McKinley.
Five Civil War veterans and members Grant, Rutherford B. Garfield, Benjamin Harrison, and McKinley were elected President of the United States; all were Republicans. The sole post-war Democratic president was Grover Cleveland, the 22nd and 24th chief executive. For a time, candidates could not get Republican presidential or congressional nominations without the endorsement of the GAR veterans voting bloc. Reverse of the Grand Army of the Republic Badge.
With membership strictly limited to "veterans of the late unpleasantness, " the GAR encouraged the formation of Allied Orders to aid them in various works. Numerous male organizations jousted for the backing of the GAR, and the political battles became quite severe until the GAR finally endorsed the Sons of Union Veterans of the Civil War as its heir. Although an overwhelmingly male organization, the GAR is known to have had at least two women who were members. The first female known to be admitted to the GAR was Kady Brownell, who served in the Union Army with her husband Robert, a private in the 1st Rhode Island Infantry at the First Battle of Bull Run in Virginia and with the 5th Rhode Island Infantry at the Battle of New Berne in North Carolina. Kady was admitted as a member in 1870 to Elias Howe Jr.
Post #3, in Bridgeport, Connecticut. The GAR insignia is engraved on her gravestone in the North Burial Ground in Providence, Rhode Island. In 1897 the GAR admitted Sarah Emma Edmonds, who served in the 2nd Michigan Infantry as a disguised man named Franklin Thompson from May 1861 until April 1863. In 1882, she collected affidavits from former comrades in an effort to petition for a veteran's pension which she received in July 1884. Edmonds was only a member for a brief period as she died September 5, 1898; however she was given a funeral with military honors when she was reburied in Houston in 1901. It is possible that other women were members of the GAR as well. The GAR reached its largest enrollment in 1890, with 490,000 members. It held an annual "National Encampment" every year from 1866 to 1949. At that final encampment in Indianapolis, Indiana, the few surviving members voted to retain the existing officers in place until the organization's dissolution; Theodore Penland of Oregon, the GAR's Commander at the time, was therefore its last.
In 1956, after the death of the last member, Albert Woolson, the GAR was formally dissolved. GAR parade during the 1914 Encampment in Detroit, Michigan. Memorials, honors and commemorations[edit]. The Stephenson Grand Army of the Republic Memorial in Washington, D. There are physical memorials to the Grand Army of the Republic in numerous communities throughout the United States.
Route 6 is known as the Grand Army of the Republic Highway for its entire length. In 1948, the Grand Army of the Republic was commemorated on a stamp.
[7] In 1951, the U. Postal Service printed a virtually identical stamp for the final reunion of the United Confederate Veterans.
Every state (even those of the former Confederacy) fell within a GAR "Department, " and within these Departments were the "Posts" (forerunners of modern American Legion Halls or VFW Halls). The posts were made up of local veterans, many of whom participated in local civic events. As the posts were formed, they were assign to the home Department of the National Commander-in-chief of the year that they were chartered.
There was no GAR post in London, but there was a Civil War Veterans Association Group that had many GAR members belonging to it. As Civil War veterans died or were no longer able to participate in GAR activities, posts consolidated or were disbanded.
[9] Posts were assigned a sequential number based on their admission into the state's GAR organization, and most posts held informal names which honored comrades, battles, or commanders; it was not uncommon to have more than one post in a state honoring the same individual (such as Abraham Lincoln) and posts often changed their informal designation by vote of the local membership. List of Grand Army of the Republic Posts in Kansas. List of Grand Army of the Republic Posts in Kentucky. A replica of the USS Kearsarge displayed at the 1893 GAR National Convention in Indianapolis, Indiana. John Steinbeck's East of Eden features several references to the Grand Army of the Republic.
Despite having very little actual battle experience during his brief military career, cut short by the loss of his leg, Adam Trask's father Cyrus joins the GAR and assumes the stature of "a great man" through his involvement with the organization. At the height of the GAR's influence in Washington, he brags to his son. I wonder if you know how much influence I really have.
I can throw the Grand Army at any candidate like a sock. Even the President likes to know what I think about public matters.
I can get senators defeated and I can pick appointments like apples. I can make men and I can destroy men. Cyrus Trask (character), East of Eden.
Later in the book, references are made to the graves of GAR members in California in order to emphasize the passage of time. Sinclair Lewis also refers to the GAR in his acclaimed novel Main Street[11] and in his novel It Can't Happen Here, [12] as does Charles Portis's classic novel, True Grit, [13] the GAR is briefly mentioned in William Faulkner's novel, The Sound and the Fury. [14] and Willa Cather's short story The Sculptor's Funeral briefly references the GAR.
The GAR is mentioned in the seldom-sung second verse of the patriotic song You're a Grand Old Flag. The GAR is referenced in John McCrae's poem He Is There! Which was set to music in 1917 by Charles Ives as part of his cycle Three Songs of the War. In Ward Moore's 1953 alternate history novel Bring the Jubilee, the Confederates won the Civil War and became a major world power while the rump United States was reduced to an impoverished dependence. The Grand Army of the Republic is the name of a nationalistic organization working to restore the United States to its former glory through acts of sabotage and terrorism.
Austin Conrad Shafer, California Department official, with Department commander (photo). 25, Grand Army of the Republic. Grand Army of the Republic Hall (disambiguation). Memorial Junior Senior High School, Wilkes-Barre, Pennsylvania.
Hamilton County Memorial Building, (Cincinnati, Ohio). List of Grand Army of the Republic Commanders-in-Chief. National Association of Army Nurses of the Civil War.
The item "RARE Real Photo GAR Civil War Soldiers Veterans Capt C Cook 81st NY 1915 RPPC" is in sale since Tuesday, March 06, 2018. This item is in the category "Collectibles\Militaria\Civil War (1861-65)\Civil War Veterans' Items". The seller is "dalebooks" and is located in Rochester, New York.
This item can be shipped worldwide.
Country/Region of Manufacture: United States