CIVIL WAR ERA PHOTO West Point Cadet CAVALRY Kepi Horse Cavalry Uniform Cabinet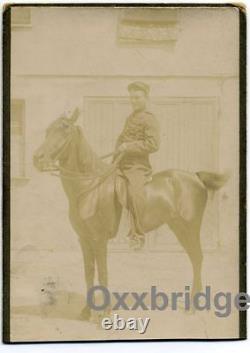 West Point Army Cadet Calavry. Civil War Era Cabinet Card. Original cabinet card photo of a West Point cadet / cavalry soldier on horseback. Note the uniform with its cross sectional three button design. We cannot make out the front of the kepi to determine the specific year. The horse tail is cropped short. Finer cavalry horses had this done during this era. Also the horse is wearing a training saddle. Measures 6 " x 4" inches.
Oxxbridge Galleries was founded in 1987. We are amongst the largest sellers of vintage photographs in the USA and are always adding to our inventory. You will be pleased by the friendliness and knowledge of our staff.