1st New Hampshire Cavalry Collection withFlag Fragment/ Civil War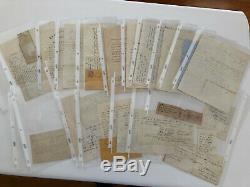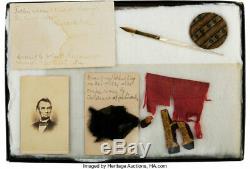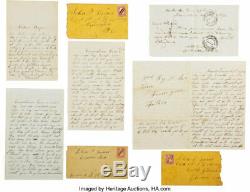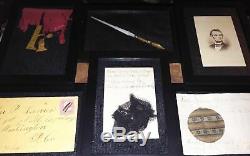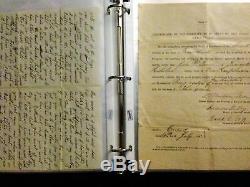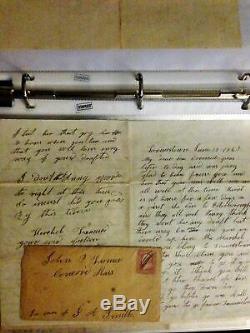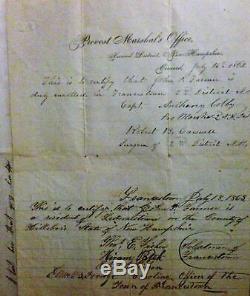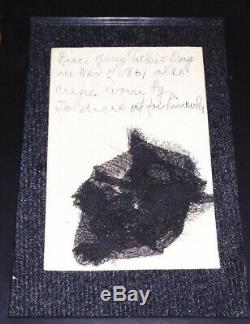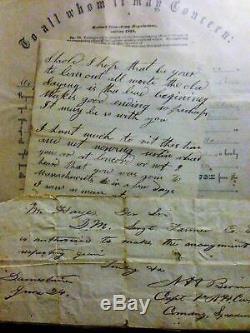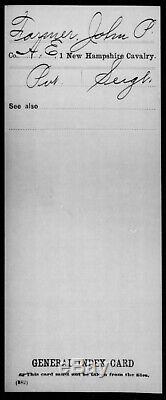 1st New Hampshire Cavalry Collection / Civil War. Super Nice collection of items of Quartermaster Sgt. Cavalry; 1 Lincoln mourning crape worn by Farmer after President Lincoln's assassination; 2 a small housewife cushion Farmer carried during the war; 3 a Lincoln CDV kept by Farmer; 4 (21) documents relating to his service including three letters, with envelopes with stamps, and several military related documents, along with; 5 his fountain pen. Also included is a small Revolutionary War period document (dated March 16, 1786) dealing with his grandfather, Peter Farmer, a county trader. 6 & 7 are the most valuable pieces in the lot; a pass from 1865 signed by Col.
Thompson, commander of the 1. Cavalry, and a piece of the 1.
There is much more than seen in the photos so please read the description. The collection starts with a letter from John P.
Farmers father in June, 1863 referring to the local draft, followed by the Provost Marshal confirmation of Johns enrollment the following month, and next the enrolling officer and town officials certification of John. There is a Certificate of Board of Enrollment form, dated July 24, 1863. Next, is a furlough document dated May 26, 1864, stating that he is a trustworthy young man.
NH Cavalry on March 23, 1864, as a 22 year old farmer from Francestown, NH. Next is a letter to John from his father, dated June 9, 1864. Followed by orders from Capt. NH Cavalry, allowing Quartermaster Sgt.
Next his another letter from his father All letters are addressed to 1. NH Cavalry and are stamped and postmarked. Next is a nice pass with written approval and Provost Marshal stamps.
Next is a Special order from the commander relieving Farmer from duty as the quartermaster. Followed by a receipt from the forage master to Farmer for 51 grain sacks.
Next is a camp letter from Farmer requesting a ten day furlough. Followed by a QM Department receipt for grain sacks from the forage master. Next is a Camp pass with written approval followed by written approval to be absent. Next, is the official furlough army document. Lastly is: A standard Soldiers Letter, missing a corner, a soldier prayer, a piece of a letter, a 1853 document (not sure of connection), the official State of New Hampshire record of service document, and Johns grandfathers 1786 receipt document.
After the war John applied for his veteran pension and became an engineer. Dying on June 20, 1922, he was laid to rest at the Pine Hill Cemetery, in Peterborough, NH. 1st New Hampshire Cavalry Regimental History. Hutchins; Majors, Arnold Wyman, Joseph F. Four companies of cavalry were organized in.
October 24-December 21, 1861, as a. And attached to the 1st New England Cavalry as Companies I, K, L, and M. For the service of these companies, see the history of the.
The regiment did not reach full strength of twelve companies until July 1864. The battalion was detached on January 7, 1864, and officially designated the 1st New Hampshire Volunteer Cavalry. The regiment was attached to the 2nd Brigade, 3rd Division, Cavalry Corps. Middle Military Division, to February 1865. Cavalry, Department of the Shenandoah, to July 1865.
Moved to New Hampshire and on veteran furlough and organizing regiment, February to April 1864. Seven companies organized and ordered to. At Camp Stoneman, Washington, D. Moved to Belle Plains, Virginia. Guarded Aquia Creek and Fredericksburg S.
And at Belle Plains until June 6, then moved to. A part of the regiment was at. Riddle's Shop and White Oak Swamp June 13. Smith's Store June 15.
On Southside & Danville Railroad June 2230. Ream's Station June 22. Nottaway Court House and Black and White Station June 23. (or Roanoke Station) June 25. (or Stony Creek) June 2829.
On picket duty at Light House Point and. September 29 and October 2. Newtown and Cedar Creek November 12. Expedition from Kernstown to Lacy Springs December 1922.
Duty at Winchester until February 1865. Sheridan's Raid into Virginia February 27-March 3.
Regiment led charge on enemy's works, capturing with the sabre 1,500 prisoners, all their artillery and the flag of every regiment engaged. Detached from division, to guard prisoners back to Winchester, Mt. Duty at and in the vicinity of Winchester, and in the Department of the Shenandoah, also at. Five companies completed organization July 1864, and ordered to Washington, D. Guard and patrol duty and operations against.
Guerrillas in the Defenses of Washington March 1865. Joined regiment in the Shenandoah Valley. The regiment lost a total of 147 men during service; 5 officers and 28 enlisted men killed or mortally wounded, 2 officers and 112 enlisted men died of disease. This is a superb grouping of a soldier from a hard-fighting cavalry unit during the Civil War.
The item "1st New Hampshire Cavalry Collection withFlag Fragment/ Civil War" is in sale since Monday, January 13, 2020. This item is in the category "Collectibles\Militaria\Civil War (1861-65)\Reenactment & Reproductions\Photographs". The seller is "bancas" and is located in Butternut, Wisconsin.
This item can be shipped to United States.
Country/Region of Manufacture: United States