Civil War CDV Union General & Autograph Louis Blenker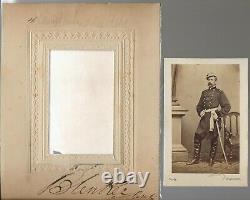 CDV and autographed album page of General Louis Blenker who died from Injuries in 1863. Autograph ties image to album page where it cross's both. Worms, Stadtkreis Worms, Rheinland-Pfalz, Germany. 31 Oct 1863 (aged 51).
Rockland County, New York, USA. Sparkill, Rockland County, New York, USA Show Map.
Section E-4, LaFayette Lot The Epitaph reads: In the first battle for the preservation of the Union at Bull Run, he commanded the reserves, and by his actions averted the destruction of the fleeing Union army and protected the national capitol. Civil War Union Brigadier General. He was born in Worms, Germany, and was originally named Ludwig.
In 1832 he enlisted in the Bavarian Legion and served in Greece. In the revolution of 1848 he led troops and was recognized as one of the main leaders of the revolution. After the rebellion failed, he fled to Switzerland where he remained until September 1849, when he was expelled from the country. He arrived in the United States and went into business in New York City. In 1861 with the outbreak of war, one of the largest groups to form volunteer units were newly arrived German immigrants.
Remembering his leadership skills in Germany, he was prominent among the organizers of these men. With the rank of Colonel, he led the 8th New York to war and by July 1861 his reputation had gained him the command of a German brigade, which, on July 21 at First Bull Run, repulsed a Confederate cavalry attack in a rearguard action.
He was given an appointment as Brigadier General on August 9. By October 1861 he had gathered enough German regiments for the War Department to organize Blenker's Division.
In March 1862, when most of the army was sent to the Virginia peninsula, he was assigned to the Mountain Department under Major General John C. Leaving for western Virginia on April 6, he ran into a foot of snow and rain that ruined the health of his men, who had been ordered to leave their tents behind. In addition, confusion followed his injury in a fall from his horse at Warrenton, and insufficient rations prompted his starving troops to raid farms.
The term "Blenkered" was thereafter applied to any goods appropriated to maintain the army in the field, whether that appropriation was justified or not. The War Department finally sent Major General William S. Rosecrans with orders to find the division and escort it to Fremont.
When Rosecrans discovered the troops were demoralized by insufficient food and equipment, he resupplied them and rushed them to Fremont at Petersburg on May 11. After little rest Fremont pushed on with his exhausted men to catch Major General Thomas "Stonewall" Jackson in the Shenandoah Valley. On June 7, 1862, Fremont caught up with Jackson at Cross Keys, Virginia, and the next day his division was repulsed with heavy losses in an attempt to turn the Confederate left flank.
Shortly after this action he was relieved, although there were no charges against him. He saw no more action and was discharged on March 31, 1863. He died later that year at his farm in Rockland County, New York, from the injuries received in the fall from his horse. The item "Civil War CDV Union General & Autograph Louis Blenker" is in sale since Saturday, February 23, 2019.
This item is in the category "Collectibles\Militaria\Civil War (1861-65)\Original Period Items\Photographs". The seller is "civil_war_photos" and is located in Midland, Michigan. This item can be shipped worldwide.