Civil War era CDV Union General John Logan of Illinois by Barr & Young Tn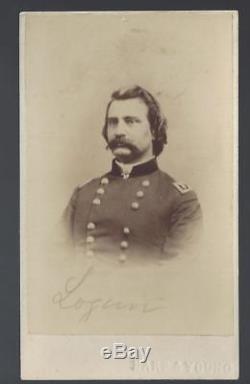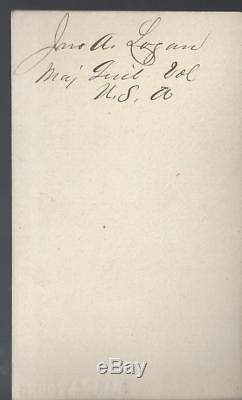 "Black Jack" Logan, arguably the most successful of the Union army's political generals, was born in pro-slavery region of Southern Illinois in 1826. His father, a successful doctor and farmer, was also heavily involved in local and state politics, representing Franklin and Jackson counties in the Illinois State assembly for nearly a decade. After a smattering of formal and informal education, John Logan volunteered for service in the Mexican War but was mustered out in 1848 without seeing any action. He attended law school at Louisville University and after a brief stint as a prosecuting attorney, turned to politics, winning his father's seat in the state assembly in 1853.
Logan was elected to the United States House of Representatives as a Democrat in 1858 and retained his seat in the election of 1860. His political views were in line with his southern Illinois roots.
He was anti-abolition, and an ardent supporter of fugitive slave laws. However, where the issue of secession was concerned, Logan could not see eye-to-eye with his fellow Democrats from the South; the Union must be preserved. Logan followed his convictionsand the U. Armyinto the First Battle of Bull Run, where he was a volunteer with the 2nd Michigan.
He led the regiment at the Battle of Belmont, Fort Henry, and Fort Donelson where he received a grave wound. Unlike many other politician-generals, "Black Jack" Logan excelled in the military.
By March of 1863, Logan was a major general commanding a division. He continued to lead with distinction during the campaign to capture Vicksburg, most notably in the assault following the explosion of a mine. After Vicksburg, Logan was given command of the Fifteenth Corps on October 27, 1863 and continued to earn recognition for his leadership during the Atlanta campaign the following spring and summer. When his immediate superior, Maj. McPherson was killed in the Battle of Atlanta, Logan temporarily commanded the Army of the Tennessee but was subsequently replaced by West Point graduate Maj.
Howard, presumably because William T. Sherman was skeptical of politicians in uniform.
The Illinoisan viewed this as a personal slight which gave him a very dim view of West Pointers in the future. Logan put on his politician hat in the fall of 1864, returning to his home state to campaign for Abraham Lincoln--a marked contrast for the erstwhile Democrat. He was given command of the Army of the Tennessee on May 23, 1865--just in time to lead it in the Grand Review in Washington, DC. After the war, Logan wasted no time in returning to politics. He was elected to the House of Representatives in 1866--this time as a Republican--and continued to represent the people of Illinois in the House and Senate until his death in 1886.
Logan was also a founding member of the Grand Army of the Republic, a champion of Union war veterans, and is credited as the founder of Memorial Day. He is buried in the Soldiers Home National Cemetery in Washington, DC.
The item "Civil War era CDV Union General John Logan of Illinois by Barr & Young Tn" is in sale since Friday, December 08, 2017. This item is in the category "Collectibles\Militaria\Civil War (1861-65)\Original Period Items\Photographs". The seller is "civil_war_photos" and is located in Midland, Michigan.
This item can be shipped worldwide.