Sgt. Alain Roland Benner, 19th PVI (3 Months), Civil War CDV Photo, April 1861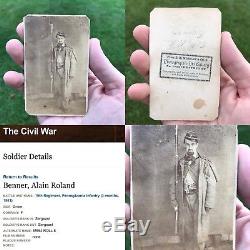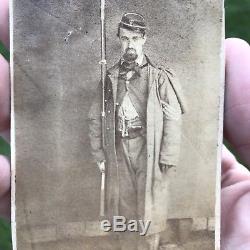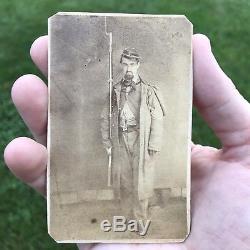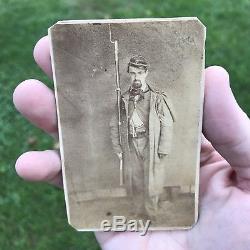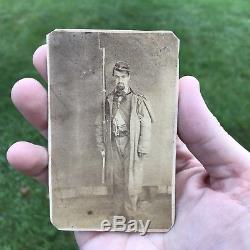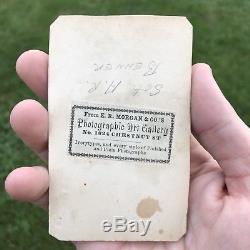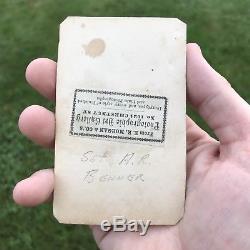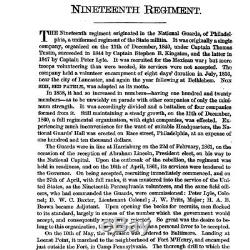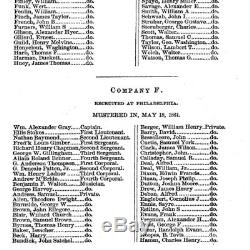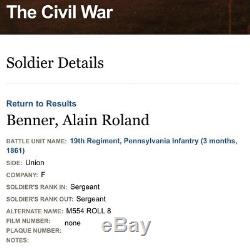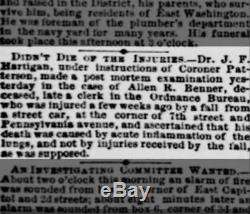 This image was most likely taken very early in the warApril 1861. The image was clearly taken outside andpaired with the wet weather attire of the soldiermatches the dreary weather conditions faced by Philadelphians in April 1861. Morgan, scarcely operated at the studio address listed on the reverse side of this image.
Morgan is documented as to have abandoned that business right after the start of the Civil War. MORE ABOUT THIS PHOTOGRAPHThis is an original carte de visite (CDV) likely taken in April 1861 (read below for more details). The image subject is IDD on the back as Sgt.
Benner is wearing what appears to be an Army greatcoat (or similar militia version) complete with cape with sleeves/cuffs rolled down. You can see sergeant stripes sewn on his overcoat. This is unique and rare to see NCO stripes sewn on a soldiers greatcoat. Benner appears to have his leather traps (cartridge box, cap pouch, bayonet scabbard) under his greatcoat. You can also see the wooden grip of a pistol sticking out from his left front side. His long arm is a smoothbore musket complete with fixed bayonet. This weapon looks like a Springfield Model 1842. This headgear is dark in color and trimmed with piping in a lighter color. We know Benner only served in the Union Army for three months at the very start of the Civil War, which stands to reason that this image was taken between April and August 1861. The fact that Benner is wearing his overcoat with his leather traps underneath, suggests hes dealing with rain and windthe weather conditions widely documented in April 1861. The Pennsylvania Magazine of History and Biography shows that the weather in Philadelphia in April of 1861 was pretty bad. The weather for the greater part of the week had been unpleasant. Storms lashing the coast had forced the majority of sailing vessels to remain in port, and the citizens of Philadelphia had had to walk about the wet, dirty streets amid a welter of jostling umbrellas and splashing horses hooves. The barrenness of the winter, which had just passed, was still evident, for the grass in the city parks was only just beginning to show some signs of vitalitythe climax, however, came on the last day of the week, Saturday, April 13, 1861. It was then that Philadelphia learned that South Carolina had fired upon Fort Sumter. This CDV photograph came from E.
Morgan & Cos Photographic Art Gallery, No. 1024 Chestnut Street in Philadelphia, PA. Morgan, the nephew of the famed Philadelphia photographer, Samuel Broadbent. Morgan was in business at 1024 Chestnut Street for a VERY SHORT time before leaving for a location over on Spring Garden Street. Ive collected images from his business partner, John L.
Gihon of that Chestnut Street address for many years. This is the ONLY image that I have ever seen that puts Morgans name on the same sheet of paper as 1024 Chestnut Street. This is the main reason this image caught my eye. According to the Philadelphia Photographer magazine: In 1858, Gihon was admitted into the life class of the Pennsylvania Academy of Fine Arts.
Soon thereafter, Gihon befriended Edward R. Morgan, nephew of the well-known Philadelphia photographer Samuel Broadbent. The two youths soon became apprentices under Broadbent. In 1859, Gihon and Morgan opened a photographic studio at 1024 Chestnut Street, opposite the Academy of Fine Arts, and adjoining the St.
Around the start of the Civil War, for reasons unknown, Edward Morgan left the business at 1024 Chestnut Street, leaving Gihon the sole proprietor. Who wears an overcoat in August? Secondly, the Philadelphia Inquirer newspaper for July 19, 1861, states that Benners regiment will return this city at the end of next week. It is stated that the condition of the clothing of the men is such that the War Department has decided to furnish them with new suits, in order that they may present a decent appearance.
BIOGRAPHY OF ALAIN ROLAND BENNERAlain Roland Benner was born in Pennsylvania circa 1834. The Worldwide Masonic Directory, 1860, shows Alain Roland Benner as a member of the Phoenix Lodge at 333 Market Street, Philadelphia, PA. His occupation is listed as salesman. In historical records, Benner is sometimes listed as Allain or Allen, however it seems Alain is the correct spelling of his first name.
They were the parents to F. During the Civil War, Alain Benner served as the fourth sergeant in Company F, 19th Pennsylvania Infantry Regiment (3 months, 1861). He may have had previous service in that unit, before the war, when it was part of the National Guard. Benner served in the 19th PVI until the unit was mustered out in August 1861. Army draft records from 1863 place Benner in Washington, D.
These records show that he was 30 years old, with a place of birth of PA. His job is listed as clerk in the Ordnance Department (part of the Department of War). Benners military service in that draft record is cited as in 3 months service Pa.
A District of Columbia directory from 1866 documents that Alain Benner was living at 160 Washington Street and still employed as a clerk in the Ordnance Department. Benner, although from Pennsylvania, must have had a personal connection to Washington, D. As records show that he married there on January 1, 1859.
He may have been living in D. When the war broke out and traveled back to his native Philadelphia to serve in the 19th PVIwhether he had Masonic buddies in that unit or if he had been a member of that National Guard organization before the war.
This is possible, especially because unit leaders made him an NCO. Benner apparently continued his employment with the Ordnance Department until his death on September 30, 1872. BENNERS OBITUARYOn Monday, at 11 a.
1402 H Street Northwest, Alain R. His funeral will take place on Wednesday, at 3:30 o'clock p.
Former Union Army sergeant, Alain Roland Benner, was laid to rest in the Congressional Cemetery in Washington, District of Columbia. He is located in Row 48, Section 254. The Evening Star, October 1, 1872, Killed by a Fall from a Street CarMr.
Benner, a clerk in the Ordnance Bureau, who was severely injured by a fall from a street car at the corner of 7th street and Pennsylvania avenue about two weeks since, as stated in the STAR at the time, died yesterday afternoon at his residence on 14th street. He leaves a wife and three children.
The Evening Star, October 2, 1872, Didn't Die of the InjuriesDr. Hartigan, under instructions of Coroner Patterson, made a post mortem examination yesterday in the case of Allen R.
Benner, deceased, late a clerk in the Ordnance Bureau, who was injured a few weeks ago by a fall from a street car, at the corner of 7th street and Pennsylvania avenue, and ascertained that his death was caused by acute inflammation of the lungs and not by injuries received by the fall, as was supposed. HISTORY OF THE 19TH PA INFANTRY (3 MONTHS, 1861)The Nineteenth Regiment originated in the National Guards, of Philadelphia, a uniformed regiment of the State militia. It was originally a single company, organized on December 11, 1840, under Captain Thomas Tustin, succeeded in 1844 by Captain Stephen B. Kingston, and the latter in 1847 by Captain Peter Lyle.
It was recruited for the Mexican War; but more troops volunteering than were needed, its services were not accepted. The company held a volunteer encampment of eight days duration in July 1856. In 1858, the unit increased his numbershaving one hundred and twenty members. The members were divided amongst four companies in one battalion-sized element.
On December 11, 1860, the unit had steadily grown enough to warrant a full regiment (eight companies). The Guards were in line at Harrisburg on February 22, 1861, when President-Elect Abraham Lincoln passed through on his way to Washington, D. Upon the outbreak of the Civil War, the regiment was held in readiness, and on April 16, 1861, its services were tendered to the state governor. On being accepted, recruiting immediately commenced, and on April 27, 1861, its services it was mustered into the service of the United States, as the Nineteenth Pennsylvania Volunteers, and the same field officers, who had commanded the Guards, were commissioned. Was led by Colonel Peter Lyle, Lt.
DeWitt Clinton Baxter, Major J. Colonel DeWitt Clinton Baxter would later command the 72nd Pennsylvania Infantry Regiment, which was know as Baxters Zouaves.
On May 10, 1861, the regiment was ordered to Baltimore. Landing at Locust Point, it marched to the neighborhood of Fort McHenry, and encamped just outside the fort, in Camp Pennsylvania. This Philadelphia-based unit also appears in various texts and histories as the 19th Pennsylvania Volunteer Infantry Regiment, the 19th Pennsylvania Volunteers, and the 19th Pennsylvania Regiment. Alain Roland Benner, 19th PVI (3 Months), Civil War CDV Photo, April 1861" is in sale since Thursday, September 13, 2018. This item is in the category "Collectibles\Militaria\Civil War (1861-65)\Original Period Items\Photographs". The seller is "mpdoughboy153" and is located in Wilmington, Delaware. This item can be shipped to United States, Canada, United Kingdom, Denmark, Romania, Slovakia, Bulgaria, Czech republic, Finland, Hungary, Latvia, Lithuania, Malta, Estonia, Australia, Greece, Portugal, Cyprus, Slovenia, Japan, China, Sweden, South Korea, Indonesia, Taiwan, Thailand, Belgium, France, Hong Kong, Ireland, Netherlands, Poland, Spain, Italy, Germany, Austria, Israel, Mexico, New Zealand, Singapore, Switzerland, Norway, Saudi arabia, United arab emirates, Qatar, Kuwait, Bahrain, Croatia, Malaysia, Chile, Colombia, Costa rica, Dominican republic, Panama, Trinidad and tobago, Guatemala, El salvador, Honduras, Jamaica.
Modified Item: No
Country/Region of Manufacture: United States