CDV Champ Ferguson Executed Civil War Confederate Guerrilla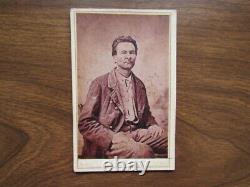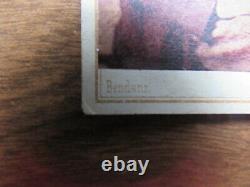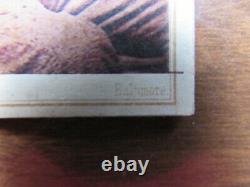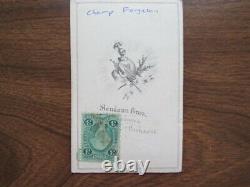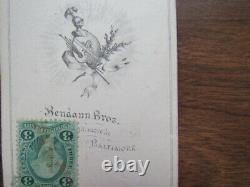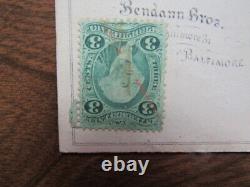 CDV of Champ Ferguson, Confederate Civil War Guerrilla. He claimed to have killed over 100.
He was arrested, tried, and executed for. By the US government after the war. Early in the war, Ferguson organized a guerrilla company and began attacking any civilians that he believed supported the Union. Many local vendettas were prosecuted in occupied Tennessee under the guise of war. His men cooperated with Confederate military units led by Brig. When they were in the area and some evidence indicates that Morgan commissioned Ferguson as a captain of. Ferguson's men were seldom subject to military discipline and often violated the normal rules of war. Stories circulated about Ferguson's alleged. Including tales that he occasionally decapitated his prisoners and rolled their heads down hillsides. He was said to be willing to kill elderly and bedridden men.
He was once arrested by the Confederate authorities and charged with murdering a government official and was imprisoned for two months in. The charges could not be proved, so he was eventually released. As soon as the Union troops learned of his return, they arrested him and took him to. Where he was tried by a military court for 53 murders.
Ferguson's trial attracted national attention and soon became a major media event. One of Ferguson's main adversaries on the Union side, David "Tinker Dave" Beatty, testified against him. Ferguson acknowledged that his band had killed many of the victims named and said he had killed over 100 men himself. He insisted this conduct was simply part of his duty as a soldier.
A notorious incident was Ferguson and his guerrilla band's involvement in killing wounded Union men and prisoners after the Battle of Saltville. The victims were members of the all-black 5th United States Colored Cavalry.
Ferguson and his men were charged with murdering the wounded in their hospital beds. Only the arrival of Thomas' Legion of Cherokee Indians and Highlanders.
Had prevented the complete slaughter of the prisoners. As soon as Ferguson learned that regular Confederates had arrived, he left with his men.
On October 10, 1865, Ferguson was found guilty and sentenced to hang. He made a statement in response to the verdict. Ferguson surrounded by his guards. I had always heard that the Federals would not take me prisoner, but would shoot me down wherever they found me. That is what made me kill more than I otherwise would have done.
I repeat that I die a Rebel out and out, and my last request is that my body be removed to White County, Tennessee, and be buried in good Rebel soil. Johnson, James, Execution of Champ Ferguson, James K. Polk Papers, Box 1, Folder 9.
(Tennessee State Library and Archives; Nashville Dispatch , 22 October 1865). He was hanged on October 20, 1865, one of only two men to be tried, convicted, and executed for war crimes during the Civil War the other being Captain Henry Wirz. Commandant of the infamous Andersonville prison.
Ferguson was buried in the France Cemetery north of Sparta. This site is now bordered by Highway 84 (Monterey Highway). After his execution, Ferguson's statements to the Nashville Dispatch were published; The New York Times. Classified his letter as a confession. He admitted to killing at least ten people. Ferguson claimed nine of the men were killed in self-defense. He believed that one was committing murders and robbing private houses. Ferguson also stated that he had been convicted of the murders of several men who were killed by other members of his group. He denied some of the charges, including the killing of 12 soldiers at Saltville, and said that many of the men he was accused of killing had died in battle or been killed by bands other than his own. Ferguson felt that his trial had been neither just nor fair. Knowing that he would be sentenced to death, he questioned the reliability of all but two of the witnesses. The CDV was done by Bendann Bros.
(David and Daniel) of Baltimore, MD. They were active from the 1850s through 1874. The card is marked with their back stamp as well as "Bendann" on the front left lower corner and "Baltimore" on the front right lower corner. The 3 cent stamp indicates a picture costing less than 50 cents. The card itself measures 4" long by 2 3/8" wide, again typical dimensions of 1862 to 1869 CDVs.
The card thickness is 1/64, which equals. 0156, yet another measurement placing it 1862 to 1869.
The card color is "natural" as those used from 1858 to 1890. The corners are square as those used from 1861 to 1869. I found two comparable prior sales of similar CDVs of this man and my price falls right in line with those realized (one last year, one in 2009).
The item "CDV Champ Ferguson Executed Civil War Confederate Guerrilla" is in sale since Sunday, May 16, 2021. This item is in the category "Collectibles\Militaria\Civil War (1861-65)\Original Period Items\Photographs". The seller is "cny_collectibles" and is located in Oneida, New York. This item can be shipped to United States.
Country/Region of Manufacture: United States
Conflict: Civil War (1861-65)