Civil War CDV Union Colonel Dudley Donnelly 28th NYVI KIA Cedar Mtn Va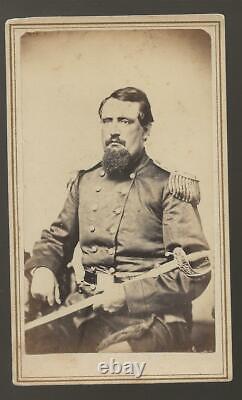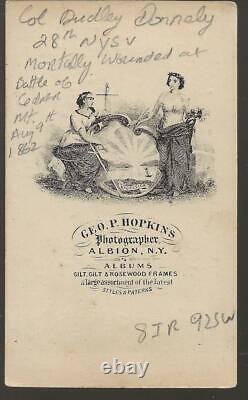 Photo added by Chris Van Blargan. 15 Aug 1862 (aged 37). Culpeper, Culpeper County, Virginia, USA. Lockport, Niagara County, New York, USA. Dudley Donnelly was born December 18, 1824, the son of Eliza Dudley and Augustus Donnelly of Homer New York.
His parents had five children, all of whom died unmarried except for Dudley. Dudley and his wife Cecelia had one daughter, Julia, born in Lockport in 1853. In the 1860 Federal census Dudley is listed as "Magistrate" being 35 years old at the time. His wife, Cecelia was 27 years old. Julia was 7 years old. In the same household was "Eliza", age 65 (probably Dudley's mother). They had a son Dudley Donnelly Stetson. Source: Supplement to the History and Genealogy of the Dudley Family by Dean Dudley. Service, May 22, 1861, at. In command of the 1st Brigade, 1st Division, 5th Corps, Army of Virginia (General Banks), from March 20, 1862, to June 15, 1862, also July 31, 1862. Mortally wounded at Cedar Mountain. Died of wounds at Culpeper, Va. Where the members of his regiment have erected a monument to his memory. His ability as commander of his regiment or brigade was always recognized and highly commended in official reports. His death ended a career that was a brilliant one, indeed.
His death was a personal loss to every member of the regiment. Association with such a man was an honor, and the remembrance of him and his heroic services will ever be a loving and cherished memory. Source: "A Brief History of the Twenty-Eighth Regiment New York Volunteers", by C.