Civil War CDV Union Major James M Walton 54th Mass Vols, Glory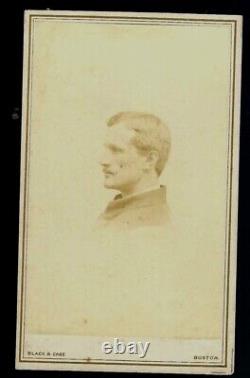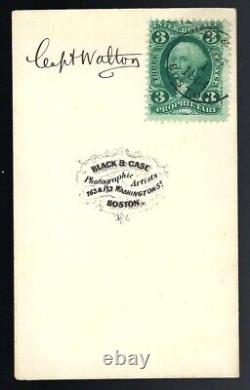 Condition as seen Published Image. Walton was a graduate of Haverford College. Commenced his business career as a coal merchant -- Birchall & Walton, at Ogontz, formerly Shoemakertown, Montgomery county, Pa. Dissolved his connection with Wm. Birchall, and studied law in the office of Peter McCall, Esq.
Was admitted to practice at the bar about the year 1862. In 1863 he enlisted in the 54th Regiment, Massachusetts Vols. Infantry, as First Lieutenant; remained in the service until the close of the war. He shared the same office with Chase & Higginson, New York city; this was from the autumn of 1867 to 1871. His health breaking down, he retired from business and took up his residence at Pittsfield, Mass. Where he entered into rest 5th month 25th, 1874. Walton had a birthright membership in the religious society of Friends, commonly called Quakers. When moving to New York he transferred his right from Philadelphia to the monthly meeting of Friends held in New York city. The certificate bears date of 5th month 20th, 1868. He was elected a member of the Pennsylvania Abolition Society in 1859.
First Lieutenant 54th Regiment Massachusetts Volunteers Infantry. Captain 54th Regiment Massachusetts Volunteers hifantry.
Major 54th Regiment Massachusetts Volunteers Infantry. Honorably discharged, 8th month 20th, 1865, at the close of the war. Tenth month, 1864, was Acting Provost Marshal. First and 2d months, 1865, Acting A. C, Northern District, Department of the South.
Third and 4th months, 1865, Provost Judge, Savannah, Georgia. Fifth month, 1865, Acting Judge Advocate, Northern District, Department of the South.