1863 U. S. Naval Academy Class Of 1865 CDV Photo Album CIVIL War Newport R. I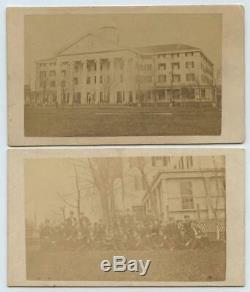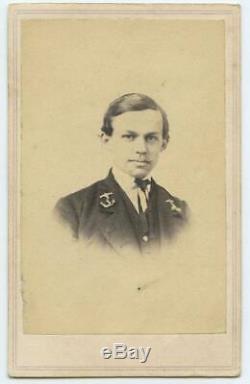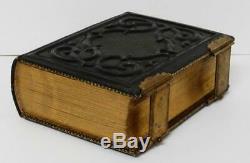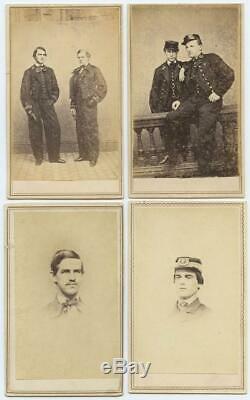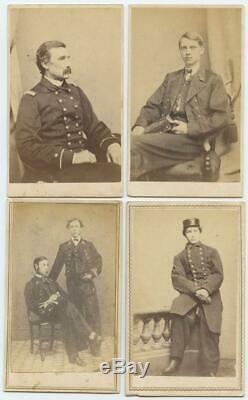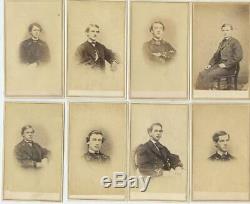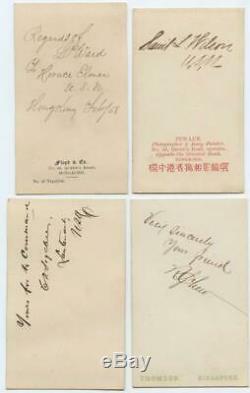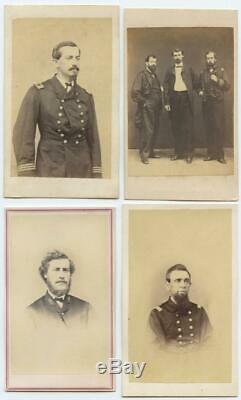 Here is a historic United States Naval Academy Class of 1865 CDV photo album, including portraits of Midshipmen, instructors and the Atlantic House at Newport, Rhode Island, belonging to Horace Elmer who was a member of an advanced Class of 1865 (graduated 1864). This original album of CDV photographs measures approximately 5 1/4 by 6 and contains 51 original albumen CDV photographs taken during the period of the Civil War when the Naval Academy was moved to Newport, Rhode Island from Annapolis, Maryland. All of the photos are mounted on their original, square corner card mounts, typical of early 1860s CDVs, and most have gold ruled borders.
The majority (23) of the photographs have identical photographers back stamps that read J. Naval Academy - Newport, R. A few (6) have the back stamps of other Newport photographers, including J. One photograph is inscribed by a Lieutenant Ward to Horace Elmer, who was a member of the Class of 1865 and whom we believe was the owner of this album.
It is likely that it was assembled by Midshipman Elmer at the Academy sometime in late 1863 or early 1864 and includes members of the advanced Class of 1865. The Naval Academy was moved to Newport from Maryland in 1861 and the Class of 1863 almost immediately entered service (May of 1861) as a result of the beginning of the Civil War. The Class of 1864 (entered the Academy in 1860) was placed on a fast track with the program at the Naval Academy reduced from four to three years and graduated in May and September of 1863. The Class of 1865 graduated 85 members. Thirty-one (31) of those students were advanced and graduated in May of 1864 while the other 54 graduated in the typical four years, in 1865. It i a bit difficult to categorize the students. There were 382 students at the Academy in February of 1863 as there was a 1st Class, a 2nd Class, an Advanced 3rd Class, a 3rd Class, a 1st Division 4th Class and a 2nd Division 4th Class, all following different courses. Given the small number of Midshipmen represented in this album, we feel it likely that these were mostly members of the advanced Class of 1865 (entered the Academy in 1861 with the 21 members entering service in May of 1864) and classmates of Horace Elmer.
It appears that this album was put together by Midshipmen Elmer, rather than being an official Class Album. No such Class Album is known from the Civil War years. The first photograph is of the Atlantic House in Newport; the main building of the Academy while at Newport. The second photograph in this album shows Naval Academy Cadets gathered on the lawn of the Atlantic House at Newport, Rhode Island.
Horace Elmer is probably in this group. These two photos are followed by 27 CDV portraits of individual Midshipmen and instructors (2 instructors), all with Newport photographers back marks. We believe Horace Elmer is the first of the 27 CDVs. Also in this first section are four group portraits of 2-4 classmates in relaxed poses. The final 20 photographs are images of United States Naval Officers, mostly quite young, and most all with photographers back stamps from Singapore or Hong Kong.
These last 20 photos appear to be fellow crew members of the Hartford and it is one of these CDVs that is inscribed on the reverse Regards to Lt. Ward - To Horace Elmer, U. Another Officer CDV image has written, in period ink, Yours for to Command C. Another back is signed Saul L. And still another reads Very Sincerely Your Friend R.
Also found in this album was a CDV-sized pencil drawing dated April 2nd, 1849 which is titled Nest of the Canary. It was probably drawn by Elmer or a family member. It was fitted directly behind the image we believe is Elmer.
This United States Naval Academy Class of 1865 CDV photo album is on overall good to excellent condition. It has deeply embossed leather, gilt-decorated spine, all edges are gilt and large brass clasps.
The album is intact and sound with only the very lightest amount of wear to the extremities. The brass clasps are tight and overall the exterior of the album is very attractive. The album is beginning to split at the interior rear hinge but is still sound and strong. The interior pages are all intact and without damage of any kind. There is no tearing, chipping or repairs. Most of the pages have some light age toning or light, scattered stains. The photographs are in various condition. All are crisp, clean and without physical damage to either the photographs or the card mounts.
The mounts are very clean with sharp corners and little or no wear (attesting to the fact that they have been inside this album since day one). The photographs themselves range from very good to excellent condition.
All exhibit sharp focus though some have varying degrees of fading. These are very early albumen photographs and seem to have aged differently according to the variation in the photographers materials and efforts. Overall, this is a very well-preserved album of important Civil War era, United States Naval Academy photographs. We know of no earlier example of this type of album collected by a Naval Academy Cadet and believe that this is the earliest known such album.
These are original 1864 photographs - they are NOT reprints, reissues, reproductions or modern copies. They original albumen photographs taken, developed and printed out circa 1864. The CDVs were carefully removed with white cotton gloved hands. Then were inserted back into their original slots. There are additional photos through Auctiva, down below and others that are in the album but not pictured in the listing.
An internet search on Horace Elmer U. Commander Elmer was born in New Jersey. He entered the Naval Academy when fourteen years old, and was graduated in 1864.
His first foreign trip was a three-year cruise in China on the Hartford. In 1870 he was executive officer of the old monitor Terror. He was on the Colorado during the Virginius episode, and from 1879 to 1881 he was executive office of the Kearsarge. He then took command of the Jamestown, and afterward of the Kearsarge. He was relieved of the command of the Kearsarge just before she went on the voyage on which she was wrecked.
Later, he commanded the Marblehead. During the winter he had ben detailed at Cramps Shipyard. During the last week in March he was placed in charge of the construction of the mosquito fleet, and was to have been its commander. His severe illness last week made it necessary to relieve him of the command, and Rear Admiral Erben succeeded him.
The body was taken to Annapolis and buried in the Naval Cemetery. Naval honors were paid to the body at the Brooklyn Yard before taken to Annapolis. STATE RESIDENTS ARE REQUIRED TO PAY N. Other services are available upon request.
There will be no exceptions. We also will not falsify U. This is against the law and subject to penalty.
IF YOU FAIL TO READ OUR TERMS PLEASE DO NOT TAKE IT OUT ON US AND DO NOT ASK US TO MAKE EXCEPTIONS. Auctiva offers Free Image Hosting and Editing.
NAVAL ACADEMY CLASS OF 1865 CDV PHOTO ALBUM CIVIL WAR NEWPORT R. I" is in sale since Friday, April 5, 2019. This item is in the category "Collectibles\Militaria\Civil War (1861-65)\Original Period Items\Photographs".
The seller is "pay-per-trail" and is located in Conesus, New York. This item can be shipped worldwide.