1/4 Daguerreotype Captain Samuel Wilkes Confederate Civil War Soldier KIA + WIFE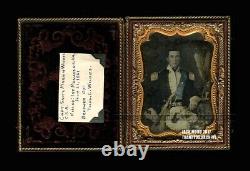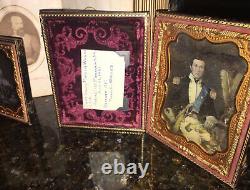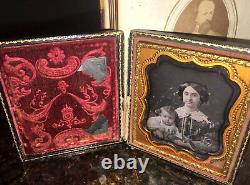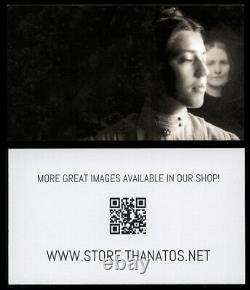 Two original daguerreotypes: a quarter-plate daguerreotype of Captain Samuel Marion Wilkes, shown in his South Carolina militia uniform. Wilkes fought for the south in the Civil War, and was killed in action at the First Battle of Bull Run on July 21, 1861.
Before the war Wilkes was a member of the South Carolina state legislature. The second daguerreotype is a circa 1855 sixth-plate of Wilkes' wife Louisa and his son Samuel, Jr...
This dag will be included, but please note. That the photo album seen in the background is NOT INCLUDED.
Captain Wilkes' image is a 1/4 plate in very good condition. I see tarnish spots, but no damage.
The underside of the glass, which is very thick, is. Dirty, but can be cleaned. Looks like the original seals are in place but very fragile. Covers are separated along the spine. Wilkes & Jr's dag is also. Couple of spots, but no obvious damage. Seals are inside the case but not intact.