CDV Confederate Diplomat John Slidell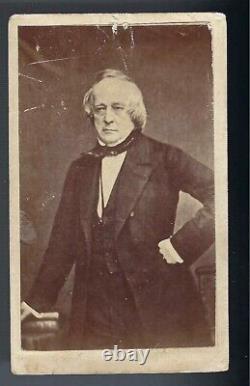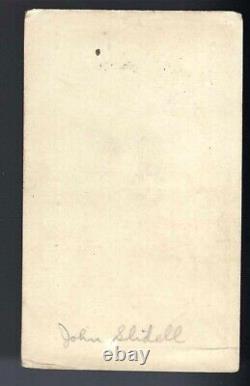 John Slidell (1793 - July 9, 1871) was an American politician, lawyer, and businessman. A native of New York, Slidell moved to Louisiana as a young man and became a Representative and Senator.
He was the older brother of Alexander Slidell Mackenzie, a US naval officer. He was born to merchant John Slidell and Margery née Mackenzie, a Scot. He graduated from Columbia University (then College) 1810. In 1835, Slidell married Mathilde Deslonde. They had three children, Alfred Slidell, Marie Rosine later on 30 Sept. 1872 comtesse [Countess] de St. Roman, and Marguerite Mathilde later on 3 Oct. 1864 baronne [Baroness] Frederic Emile d'Erlanger. John Slidell, photograph by Mathew Brady.
Prior to the Mexican-American War, Slidell was sent to Mexico, by President James Knox Polk, to negotiate an agreement whereby the Rio Grande would be the southern border of Texas. [2] Slidell warned Polk that the Mexican reluctance to negotiate a peaceful solution might require a show of military force to defend the border by the United States. Under the command of General Zachary Taylor, U. Troops were sent into the disputed area between the Rio Grande and Nueces Rivers. The Mexican government, in a state of chaos at the time, rejected Slidell's mission.
After Mexican forces repelled a U. Scouting expedition, the United States declared war on Mexico on May 13, 1846. Slidell was elected to the Senate in 1853 and cast his lot with other pro-Southern congressmen to repeal the Missouri Compromise, acquire Cuba, and admit Kansas as a slave state. In the 1860 campaign Slidell supported Democratic presidential candidate John C. Breckinridge, but remained a pro-Union moderate until Abraham Lincoln's election resulted in the Southern states seceding. At the Democratic National Convention in Charleston, South Carolina, in April 1860, Slidell plotted with "Fire-Eaters" such as William Lowndes Yancey of Alabama to stymie the nomination of the popular Northern Democratic Senator Stephen A. Slidell soon accepted a diplomatic appointment to represent the Confederacy in France. Slidell was one of the two Confederate diplomats involved in the Trent Affair in November 1861. After he was appointed the Confederate commissioner to France in September, 1861, he ran the blockade from Charleston, South Carolina, with James Murray Mason of Virginia. The Northern public erupted with a huge display of triumphalism at this dramatic capture. Even the cool-headed Lincoln was swept along in the celebratory spirit, but when he and his cabinet studied the likely consequences of a war with Britain, their enthusiasm waned. After some careful diplomatic exchanges, they admitted that the capture had been conducted contrary to maritime law and that private citizens could not be classified as enemy despatches. Slidell and Mason were released, and war was averted. After the resolution of the Trent Affair, the two diplomats set sail for England on January 1, 1862. From England, Slidell at once went to Paris, where, in February 1862, he paid his first visit to the French minister of foreign affairs. His mission to gain recognition of the Confederate States by France failed, as did his effort to negotiate a commercial agreement for France to get control of Southern cotton if the blockade were broken. In both cases, France refused to move without the co-operation of England.
Slidell moved to Paris, France, after the Civil War. He died in Cowes, Isle of Wight, England, at age 78. He is interred in the Saint-Roman family private cemetery near Paris. Dudley Mann were among the high-ranking Confederate officials buried abroad.
Slidell was a brother of Alexander Slidell Mackenzie, a naval officer who commanded the USS Somers on which a unique event occurred in 1842 off the coast of Africa during the Blockade of Africa. Three crewmen were hanged after being convicted of mutiny at sea. Mackenzie reversed the order of his middle and last names to honor a maternal uncle. Another brother, Thomas Slidell, was chief justice of the Louisiana Supreme Court.
He was also the brother-in-law of the American naval Commodore Matthew C. Perry, who was married to Slidell's sister, Jane. The city of Slidell in St. Tammany Parish, Louisiana, was named in his honor by his son-in-law Baron Frederic Emile d'Erlanger; the village of Slidell, Texas, is also named after him. This item is in the category "Collectibles\Militaria\Civil War (1861-65)\Original Period Items\Photographs".
The seller is "civil_war_photos" and is located in this country: US. This item can be shipped worldwide.
Conflict: Civil War (1861-65)
Original/Reproduction: Original
Theme: Militaria
Country/Region of Manufacture: United States
Modified Item: No