Civil War Era CDV Union Staff 24th Massachusetts Volunteers. General Stevenson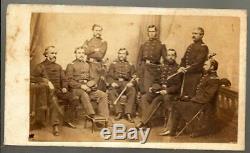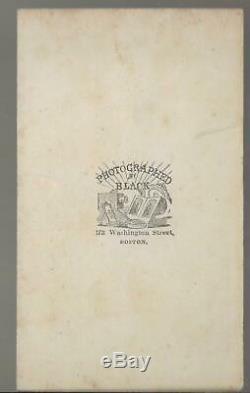 Civil War cdv of the Staff of the 24th Massachusetts Infantry with Colonel later General Thomas G Stevenson sitting in the middle. Stevenson would be killed at the battle of Spottsylvania CH. The New England Guards Regiment, was recruited at Camp Massasoit, Readville, under the personal supervision of Maj. Stevenson of the old New England Guards Battalion - the 4th Battalion - M. Who became its first colonel. Twenty-seven of the officers of the 24th Regt.
Came from this old battalion. The recruits were mustered into the service from time to time as they arrived in camp, beginning early in September, 1861.
The regiment remained at Readville until Dec. 9, when it left for Annapolis, Md. Where it became a part of Foster's Brigade, Burnside's Coast Division. It sailed from Annapolis Jany. 9, 1862, as a part of the Burnside expedition bound for the coast of North Carolina.
8, it was engaged with loss at Roanoke Island, and again March 14, it was in action at Newbern whom it suffered severely. In May, 1862, divisions were formed, and the 24th became a part of Stevenson's (2d) Brigade, Foster's (1st) Division. About the 20th of March the regiment made an expedition to Little Washington, and a little later another up the Neuse River.
Moving again toward Little Washington, on June 5 it met the enemy at Tranter's Creek, losing 5 killed and 9 wounded. Companies B and D formed a part of the garrison of Little Washington during the siege, July 8 to Sept. 12, and were engaged with loss Sept. November 1, eight companies went on the Tarboro expedition and were engaged at Rawle's Mill, Nov. H was in action at Batchelder's Creek with loss. The 24th took par in the Goldsboro expedition, Dec. 10 to 20, 1862, but was only engaged at Whitehall where its loss was slight. In the latter part of January, 1863, the regiment moved toward Charleston, S. It was in camp at St.
Helena's Island, near Beaufort, S. Through February and March, now forming a part of the 2d Brigade, lot Division, Detachment 18th Corps.
27 it was sent to Seabrook Island, Edisto Inlet, where it remained over three months. On July 10 it was transferred to James Island in front of Charleston, S. And remained on this and on Morris Island until Sept. 30, seeing little combat service. 3, and remained through the rest of the fall and the winter following.
Here 416 members of the regiment re-enlisted for three years. A part of the regiment was sent to Jacksonville, Fla.
Where it performed provost duty from Feb. 18 to April 24, 1864, when it was sent by transport to Gloucester Point near Yorktown, Va. Here the entire regiment was reunited about May 1, and became a part of the 3d Brigade, 1st Division, 10th Corps. It was engaged at Drewry's Bluff (also spelled Drury's Bluff), May 13-16, on the 16th having 11 men killed and 54 wounded or missing. It then moved to the north bank of the James, where it remained two months.
14 to 16 it was heavily engaged at Deep Bottom, losing over 100 men of whom 20 were killed or mortally wounded. 28, it was in the lines in front of Petersburg, after which it was again moved to the north side of the James, where it was in action on the Darbytown road Oct. December 18 it was transferred to Bermuda Hundred and there remained until April 8, 1865, when it was sent to Richmond to do guard duty. In June, 1865, it received 172 men from the 34th Regt. And 14 from the 40th Regt. The terms of service of these regiments having expired. The 24th remained in Richmond doing guard duty until Jany. 10, 1866, when it was mustered out of the service.
The engagement near Deep Bottom, August 16, 1864, is commonly known in the regimental annals as Deep Run. The item "Civil War Era CDV Union Staff 24th Massachusetts Volunteers. General Stevenson" is in sale since Wednesday, March 6, 2019. This item is in the category "Collectibles\Militaria\Civil War (1861-65)\Original Period Items\Photographs".
The seller is "civil_war_photos" and is located in Midland, Michigan. This item can be shipped worldwide.
Country/Region of Manufacture: United States