Oval Albumen Photograph of Robert E. Lee in Uniform Taken in Richmond in 1864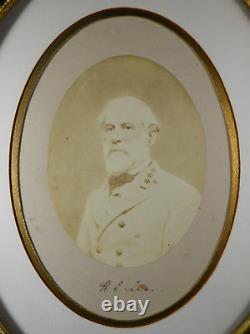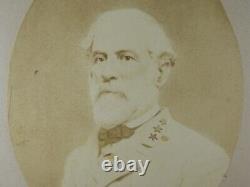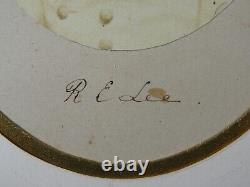 He is considered the most brilliant commander of field armies in American History. Within months of his surrender to Grant and the close of the Civil War, Lee became the President of Washington College where he would remain until his death. RARE OVAL ALBUMEN PHOTOGRAPH OF ROBERT E. LEE IN HIS CONFEDERATE MILITARY UNIFORM CAPTURED BY VANNERSON AND JONES IN RICHMOND, VA IN FEBRUARY 1864. Rare oval albumen photograph of Robert E. Lee in his Confederate military uniform captured by photographers Vannerson and Jones in Richmond, VA in February 1864. Contains Lee's name handwritten on the matting (possibly in the photographer's hand), measures 6.5 by 4.5 inches, in very fine condition with only light soiling and staining, and nicely matted and framed in an oval frame post Civil War to an overall size of 14 by 12 inches. ARGUABLY ONE OF THE MOST FAMOUS PORTRAITS OF THE COMMANDER OF THE ARMY OF NORTHERN VIRGINIA TAKEN JUST THREE MONTHS BEFORE THE OVERLAND CAMPAIGN. Arguably one of the most famous portraits of the Commander of the Army of Northern Virginia taken just three months before Ulysses S.
Grant initiated the Overland Campaign. Lee agreed to the session in order for the sculptor, Edward V. Valentine, to use the images to make and sell sculptures of Lee at a Confederate benefit in England.