Vintage Civil War Photo Confederate + Bible +Bag-Historic Lot(MUST see/read)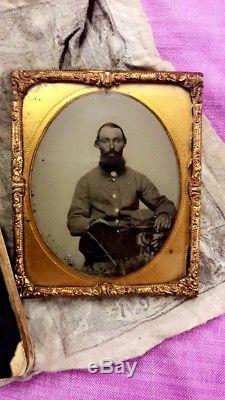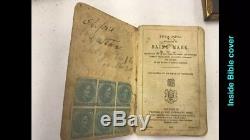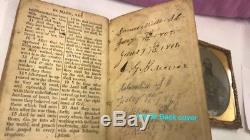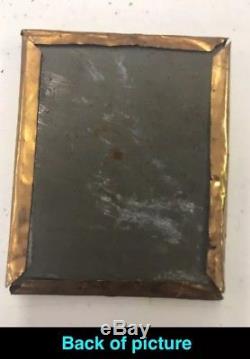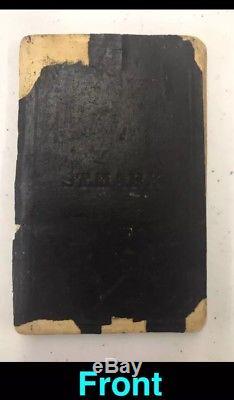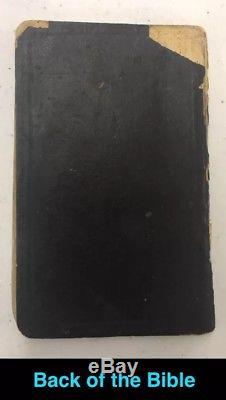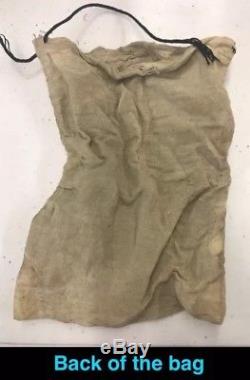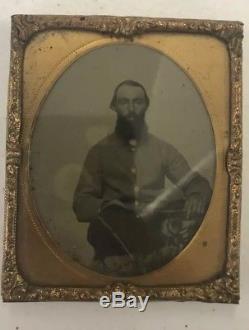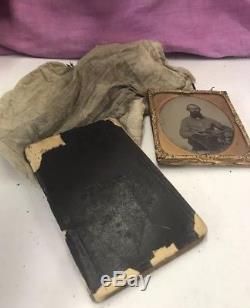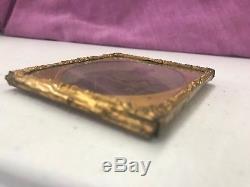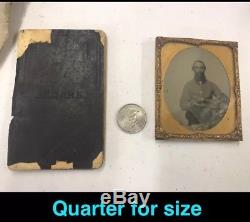 For my description I will tell you what I know. My Dad was an antique dealer and collector (seeing how large his collection is, the latter won the majority of his focus lol). If you are a collector on the East Coast you probably knew him. Growing up, he spent a lot of time teaching me about many different collectibles but as it tends to do, time ran out.
Dad passed away unexpectedly, this has left me with his entire collection- so many things I know little /if anything about. These items surely would go in that category. What I do know is these are special pieces if for no other reason-due to age, history, and the fact they are 1-of a-kind. I have just started going through some of the smaller glass showcases and storage boxes in Dads shop.
Dad bought several estates that I remember from when I was a kid. Ive asked around about many pieces but sadly the only one who really knows is not here to ask. Here I will do my best to explain this best I can -first it is a smaller photo in what appears to be a tin frame (Im 90% sure its called ambrotype based on my internet searches). The photograph is in square frame //photo ilcircular/oval shape presentation; photograph has some chipping at the bottom (see pics).
The photo is of what appears to be a Confederate Soldier in his uniform, posed for the pictures donning a really cool beard, and hat (I believe called a Kepi at his side). A guy that worked for dad take this with a grain of salt.. It could be barbershop talk//or guesswork at best-said that a uniforms with single rows of buttons could mean higher rank in some cases and/or guessed the man pictured could possibly be a Chaplin?
If you know for sure based on his attire-I really would love to know. If he was the latter that makes it ever cooler that this photo was kept along side this small Bible. The Bible is a very cool item all by itself.
As you will see in the pictures it is The Gospel According to Saint Mark. It appears to be complete. The inside front cover has some writing [cant make out what it says]. It also has 6 Confederate Five Cent stamps stuck under it.
The Bible itself is dated 1862. The pages of the Scriptures appear to have slight marks but no writing/words that I have seen. Condition of Bible is what you would expect for a Bible printed in the 1800s. Not great condition, pages brown. I guess the fact its still in tact is impressive but it looks like its had a tough road which it may be telling us.
The back inside cover is what most got my attentionas the owner appears to have recorded dates along with different places (possibly places stayed or encampment areas based on where they are). For instance he has firstly has written what appears to be Summerville? , South Carolina (which i see historians claim was a refugee spot during the Civil War). This has a date of what looks like Jan/July 1965?
It also has recorded what looks like Solomill? Maybe which could be a misspelling or my misreading or Saluda Mill? We do know SMill was significant during that time as Sherman burned it down and its the location of Shermans Rock... The owner recorded February 16 1965 with this location. Lastly it appears to have Charlotte NC on February 18, 1865.
It also has what looks to be a name? Written in between dates/locations in the center. The cover of the Bible is loose but still hanging on. They were stored with this cloth little pull-string bag. Im not sure if this has any significance to the 2 main items but I want the owner to have this as it was, as I found itas I know if you are interested in this you enjoy original/one of a kind pieces/historic time pieces. As much as I wish it was in a bag with an insignia of the Confederacy or something relatedit does not.
It has a design of a nude person with the bottom reading 1962; making me pretty sure the bag didnt belong to the owner of the Bible or the gentleman in the photo. It could Possibly be what these items were kept in from the family member who held the photo of their kin/along with Bible? One cant be certain Also the bags string on the pull to close bag will not pull close. The bag appears dingy /brown colored. I again ask you view the pictures closely.
I will carefully wrap and secure the items to ensure they get to you safely. If you have any questions do not hesitate to send me a message. Thank you for your interest and looking and hopefully thank you for helping me finish paying off these student loans god bless! The item "Vintage Civil War Photo Confederate + Bible +Bag-Historic Lot(MUST see/read)" is in sale since Thursday, September 13, 2018. This item is in the category "Collectibles\Photographic Images\Vintage & Antique (Pre-1940)\Ambrotypes". The seller is "v-collecting-retrocards" and is located in Goldsboro, North Carolina. This item can be shipped to United States.
Original/Reprint: Original Print
Modified Item: No
Subject: Military & Political
Date of Creation: 1860-1869
Country/Region of Manufacture: United States
Size Type/Largest Dimension: Small (Up to 7")
Region of Origin: US
Framing: Framed
Color: Black & White