Civil War CDV 17th New York Volunteers in Formation by Brady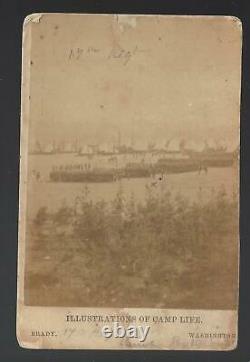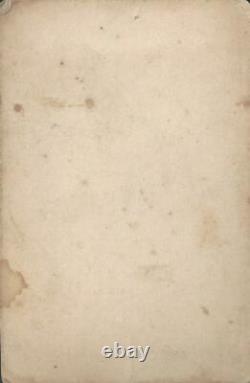 Mustered in: May 28, 1861. Mustered out: June 2, 1863. The following is taken from New York in the War of the Rebellion, 3rd ed.
Lansing, was accepted by the State and numerically designated May 14, 1861; it was organized in New York city and there mustered in the United States service for two years May 28, 1861. The 18th State Militia furnished men for one company of this regiment. March 16, 1862, Company G was consolidated.
With Companies A, B, C and F, and replaced by Company A, 53d N. Volunteers, first organization, transferred to the regiment.
May 13, 1863, the three years' men of the regiment were detached from it and assigned to the Battalion of New York Volunteers, but June 23, 1863, transferred to the 146th N. The companies were recruited principally: A at Yonkers; B at Portchester; C at Morrisania; D and E at New York city; F at Sing Sing; G Nyack Volunteers at Nyack; H at Norwich; I at Newark, Arcadia and Sodus; K at Warsaw; and the second Company G at New York city.
The regiment left the State June 21, 1861; served at and near Washington, D. From June 23, 1861; at Fort Ellsworth, D. From August 4, 1861; in Butterfield's Brigade, Porter's Division, Army of the Potomac, from October 15, 1862; in same brigade and division, 3d Corps, Army of the Potomac, from March 13, 1862; in the 3d Brigade, 1st Division, 5th Corps, Army of the Potomac, from May, 1862, and was honorably discharged and mustered out, under Colonel Lansing, June 2, 1863, at New York city. During its service the regiment lost by death, killed in action, 3 officers, 26 enlisted men; of wounds received in action, 2 officers, II enlisted men; of disease and other causes, 3 officers, 45 enlisted men; total, 8 officers, 82 enlisted men; aggregate, 90.
The following is taken from The Union army: a history of military affairs in the loyal states, 1861-65 -- records of the regiments in the Union army -- cyclopedia of battles -- memoirs of commanders and soldiers. Thomas Ford Morris, Nelson B. Bartram, Edward Jardine, Joel O.
Martin, James Lake, Alexander S. Johnson, Nelson B; Bartram, William T. Martin, Charles Hilbert, Alexander S. The I7th regimentthe "Westchester Chasseurs"contained four companies from Westches-ter county, two from New York city, one from each of the counties of Rockland, Chenango, Wayne and Wyoming, and was mustered into the U. Service at New York city, May 28, 1861, for a two years' term. It went into camp at Camp Washington, Staten Island, until June 21, when it left for Washington and was stationed at Fort Ellsworth near Alexandria. With the 2nd brigade, 5th division, which was held in reserve, the regiment was present at Bull Run. In September it was posted at Fairfax seminary; in October was ordered to Hall's hill, where it was assigned to Butterfield's brigade, 1st division, 3d corps, and established permanent winter quarters. In March, 1862, a company from the 53d N. Infantry was assigned to the I7th, and in May, the brigade became a part of the 1st division of the 5th provisional corps.
In March the command moved to Fortress Monroe and after several reconnoitering expeditions proceeded to Yorktown, where it participated in the siege operations. It was not actively engaged in the ensuing battles of the Peninsular campaign and went into camp at Harrison's landing, whence it moved to Newport News and Manassas. At the second Bull Run the regiment made a valiant assault, in which it suffered the loss of 183 killed, wounded and missing, and after the battle the brigade was withdrawn to the vicinity of Washington, where it joined the army in the Maryland campaign, without being called into action. It reached Falmouth in Nov. 1862, where camp was established; the regiment was active at Fredericksburg and shared in the "Mud March, " returning to complete the winter at Falmouth.
It was held in reserve at Chancellorsville, the last engagement of the two years men, who were mustered out at New York city, May 22, 1863. During the two years' service, the regiment lost 42 men by death from wounds and 48 by death from other causes. The item "Civil War CDV 17th New York Volunteers in Formation by Brady" is in sale since Monday, August 31, 2020. This item is in the category "Collectibles\Militaria\Civil War (1861-65)\Original Period Items\Photographs".
The seller is "civil_war_photos" and is located in Midland, Michigan. This item can be shipped worldwide.
Country/Region of Manufacture: United States
Original/Reproduction: Original