ID'd Civil War Era CDV 1st Lt. Alexander Beach, 2nd & 11th New Jersey Infantry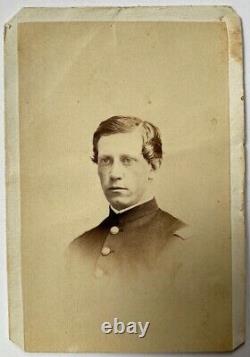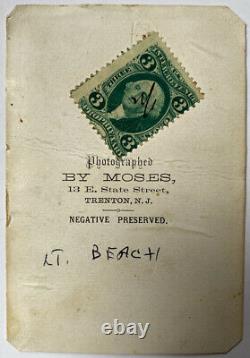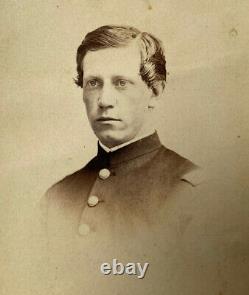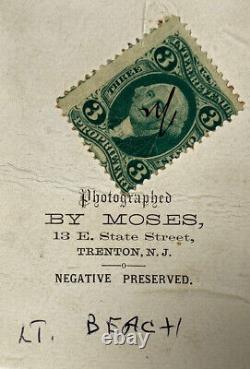 ID'd Civil War Era CDV of 1st Lt. For sale is an identified CDV of 1st Lieutenant Alexander Beach Jr. 9, 1902, who served with the 2. & 11th New Jersey Infantry; backmark from Moses' studio at 13 East State St. Beach served as the adjutant of the regiment from Aug.
6, 1865, and was wounded at the Battle of Chancellorsville. He had previously served as a Private in Co. After the war, Beach owned and operated a clothing store in Newark, Essex Co.
Excerpts on Beach from the regimental history, History of the Eleventh New Jersey Volunteers: From its Organization to Appomattox, by Thomas D. Enlisted May 30th, 1861, as a private in Company K, Second New Jersey Volunteers; was commissioned Second Lieutenant, Company B, Eleventh New Jersey Volunteers, August 16th, 1862; First Lieutenant, March 6th, 1863; Adjutant, August 26th, 1863; Captain, Company I [not mustered], June 13th, 1865; wounded at Chancellorsville, May 4, 1863 [Beach was shot through the leg]. Adjutant Beach was, under all circumstances, a thorough and reliable officer, and during his term of service, by his upright and manly bearing as a soldier, he commanded the respect and confidence of his superior officers. He received special mention for his gallant behavior at the battle of Locust Grove.
He now resides in Newark, N. Lieutenant Beach, who was wounded at Chancellorsville, relates the following interesting incident, which occurred on his way to Washington:'I was wounded early in the morning of the last day of the fight, and was put in an ambulance with a wounded Confederate belonging to an Alabama regiment. We were driven to the steamer at Aquia Creek to be transported to Washington. The Confederate was laid on a cot next to mine on the upper deck.
Before we left the dock, President Lincoln telegraphed he was coming down to look after the wounded, and the vessel was detained until he arrived. As he came on our deck, grasping the hand and speaking a word of comfort to everyone, the Alabamian asked me who it was coming.
I told him it was President Lincoln. He then asked me if the President would speak to him. I replied I thought so.
When the President came to his cot, he took his hand and asked about his comfort and if his wound had been dressed and showed as much interest in his welfare as he did in any of our own soldiers. When he left, the Confederate was in tears and was completely overcome by the kindly interest of the man against whose authority he was fighting. He said he hoped to live to return to his home and tell his people how the great heart of Abraham Lincoln had gone out toward him-a rebel' Marbaker, p.
Another excerpt from the regimental regarding Beach's wounding at Chancellorsville stated, the rebel sharpshooters kept up an annoying fire, and several men of the Eleventh were wounded, among them Lieutenant Beach. When Beach was struck, one of Berdan's Sharpshooters asked'if that fellow hit any one. When told that Beach was struck, he replied:'I have my eye on the -----' [an expletive censored by Marbaker]. The next Instant there was a report, and the'reb' came tumbling out of a tree Marbaker, p. Please refer to the images in this listing for details regarding the condition of the item.
Offers on any items will be considered so long as they are reasonable. If you have any questions or concerns regarding and item or an order, please contact me. This item is in the category "Collectibles\Militaria\Civil War (1861-65)\Original Period Items\Photographs". The seller is "history-major" and is located in this country: US.
This item can be shipped to United States.
Country/Region of Manufacture: Jersey